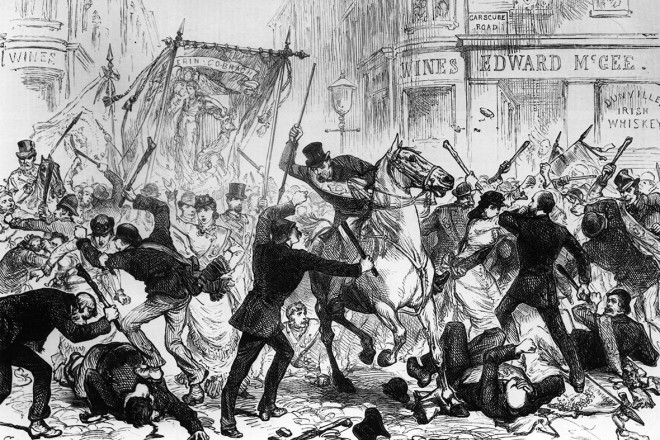 Compared to Northern Ireland, where thousands have died as a result of a conflict whose roots (at least ostensibly) are in religion, divisions in Scotland seem less pronounced.
Nevertheless people have been murdered or beaten up for their religion; some housing estates, or "schemes", seem to be the sole preserve of one religious group or the other, and at football matches fans still sing of ancient hatreds.
It's been said that Scotland is "Northern Ireland without the bullets". So why is sectarianism such an issue?
The roots of the division go back to the emergence of Protestantism across Europe in the 16th century and the Reformation, when Henry VIII broke away from Rome. Scotland remained mostly Catholic but the hierarchy was seen as corrupt and Presbyterianism – the Church of Scotland - was adopted as the country's state religion.
In Scotland, Catholic-Protestant conflict was more pronounced because many Catholic immigrants arrived from famine-hit Ireland in the mid-19th century. Ironically, it was the arrival of Scottish Protestant "planters" in the north of Ireland that would partly sow the seeds of conflict there.
Many Irish immigrants settled in the poorer districts of Glasgow, mainly the East End, where they were in competition with locals for jobs and housing. Catholics could often be identified by their name (Catholic surnames were said to begin with a "Mc" as opposed to the Protestant "Mac"), school or address and often found themselves discriminated against when they applied for jobs because of a range of factors including the influence of the Orange Order.
Scotland and Ireland have a shared history and culture which dates back centuries; indeed the original Scots came from Ireland, or "Scotia", as it was named by the Romans. Now, as Scotland prepares to decide whether to leave the Union, many observers will be wondering what it all means for its near neighbour just 12 miles across the sea.