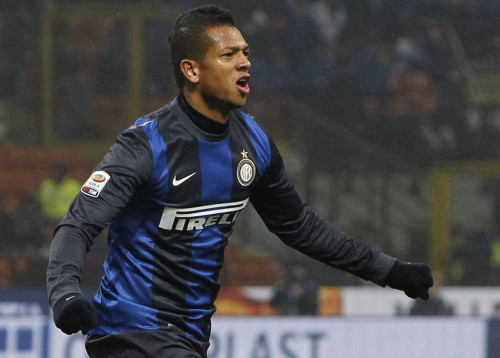 Profile:
Fredy Guarin is a 27-year-old Colombia international who currently plays at Inter Milan as a midfielder.
He started his career with Colombian side Envigado and after a short loan stint with Argentinian giants Boca Juniors he moved to Europe, where he spent two years in France with Saint-Etienne. However, his career really began to take off at Porto where during four seasons he won three domestic leagues and the Europa League before he joined Inter Milan on loan in January 2012.
The Italian side made the move permanent in the summer of 2012, after paying the Portuguese club around £10m to secure his services and during a season and a half in Italy he has become a key player for the Nerrazzuri. This season he has started all 17 Serie A games, scoring three goals and grabbing 7 assists and is likely to have a key role to play for Colombia at next summer's World Cup.
Style:
Guarin is a very versatile and dynamic player. He is comfortable in the centre or right hand side of midfield playing as a box to box player, but lately this season he has been deployed as a playmaker behind Inter forward Rodrigo Palacio. He likes to shoot from long-range with both feet but usually opts to assist the striker rather than score himself. Comfortable in midfield, Guarin is capable of partnering a defensive player like John Obi Mikel, or taking a more advanced playmaker role alongside the likes of Eden Hazard, Oscar, Juan Mata, Andre Schürrle or Willian.
Strength:
One of Guarin's greatest traits is his versatility, allowing him to play in several positions and to adapt to different tactics. His dynamism and physical strength make him a good box to box player who will help the team in defence with good tackles and clever tactical fouls, as well as in attack creating key passes, dribbling on the flank and scoring goals from long distances with both feet.
Weaknesses:
Guarin is perhaps not talented enough as a creative midfielder to improve Chelsea's current wealth of options, neither is he a significantly better option than Ramires in a deeper role. Furthermore, his injury history should be a real concern for any suitors. During 2011/2012 he missed almost half of the season due to a long term injury and he has suffered from a range of minor physical issues during his career.
Who has he been compared to?
Guarin could be a pivotal player for Jose Mourinho in leading counter counter-attacks. In that sense, he has drawn comparisons with Ramires but also Wesley Sneijder, who was such a key player for the Portuguese boss during his tenure at Inter Milan.
What the experts say:
Former Inter Milan manager Andrea Stramaccioni praised Guarin during his tenure at the club:
"Guarin is an extraordinary player. He's a physical force with quality as well, and in addition he's an important presence in the dressing room. As an inside midfielder along with Kovacic and another player we would have a solid foundation for the league. He's an exceptional inside midfielder and he'd work very well in a 4-3-3."