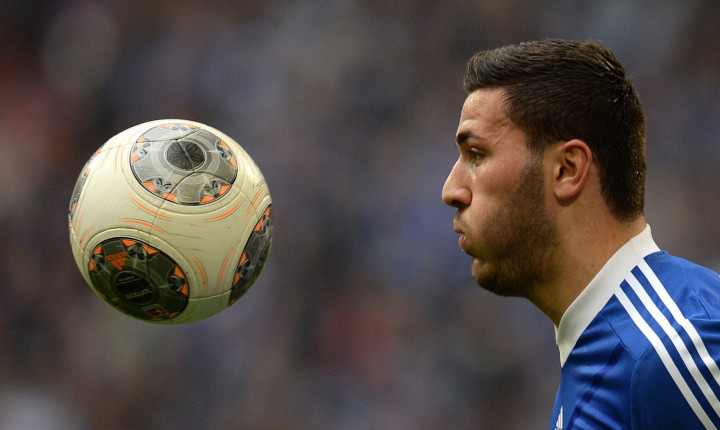 Schalke defender Sead Kolašinac claims Manchester United still want to sign him although the imminent arrival of Marcos Rojo at Old Trafford threatens to end that interest.
Bosnia international Kolašinac claimed earlier this summer the Premier League club had made him an offer but insisted at the time he was still open to remaining at the Bundesliga club for another season.
The 20-year-old, who primarily plays as a left back for Schalke where he started 21 league games last term, remained linked with a move to United until Luke Shaw completed his £27m move to the club from Southampton.
But Kolašinac has claimed United scouts have continued to watch him following Shaw's arrival and throughout the club's search for further defensive reinforcements and that he could yet make his own move to Old Trafford.
"Two months ago Schalke received an official offer from very successful English club Manchester United for me. This option is still open," Kolašinac was quoted as saying by Bosnian daily Dnevi Avaz. "United scouts were at a recent match between Tottenham and Schalke in London. Believe me, I only heard about it after the completion of the match.
"They are of the world's top clubs, of course it would be great to play at Old Trafford. In football you never know nothing. Anything is possible.
"There is still time until the end of the transfer period and we'll see."
Kolašinac's comments appeared in the Bosnian newspaper on Tuesday morning, before Sporting Lisbon announced their soon-to-be former player Rojo had agreed a deal to join United. The Argentine is poised to complete his move pending a medical and agreeing personal terms and will provide Louis van Gaal with another option at centre half, in addition to competition for Luke Shaw and Reece James at left back.
With more pressing matters to address as just 13 days of the transfer window remain, it is unlikely van Gaal and United will focus their attentions on another left back option in the remaining time that they have.
The club's need for a powerful midfield presence was heightened in their opening season loss to Swansea City last weekend but van Gaal is also keen to enlist the services of a productive winger to address what he sees as an imbalance in his current squad.
"At this moment, we have five number nines and four number tens – and we don't have wingers to give us attacking width," the Dutchman recently said.
"Or, I should say, we don't have wingers of the highest level, like Ronaldo or Di Maria or somebody like that. So, I have to play in another way – and you have seen that already. I only buy when I think we need to buy – in the position that is necessary."