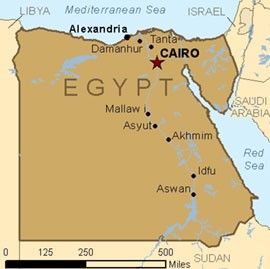 At least 16 people, including 10 police officers, have been injured in clashes between Muslims and Christians in a village near Cairo.
Some 120 Christian families in Dahshour were evicted after the sectarian violence, which was sparked by the death of a Muslim man.
Reports suggests that both the Muslim and Christian mobs used firebombs during the confrontation, and three police trucks were set on fire.
According to the local archbishop, Muslim rioters looted and torched several jewellery shops, and police had to use teargas to prevent them destroying a church.
The incident has prompted mass protests outside Egypt's presidential palace, with hundreds of demonstrators condemning the forced migration of the Christians, and chanting for the removal of President Mohammed Mursi.
Mursi, leader of Egypt's Muslim Brotherhood, is seen by many Christians as a direct threat to their community - which currently accounts for around 10 percent of the Egyptian population.
Customer dispute led to village violence

The violence reportedly began on 27 July, when a Christian laundry worker attacked one of his Muslim customers in a heated argument. Muslims allege that the laundry worker set fire to the shirt of his client.
The customer and friends later went to the assailant's house with friends, attracting a large crowd of Muslims and Christians. Eyewitnesses said Christians threw a firebomb, which hit a Muslim man who died of his injuries.
After the funeral, a large Muslim mob reportedly began attacking Christian homes, businesses and the church and the violence spiralled.
Heavy security has been imposed in the village and there have been attempts at reconciliation in the hope of persuading the exiled Christian families to return. A local priest and the father of the dead man are involved.
Sayed Haddam, a 22-year-old Dahshour resident, said: "We are very saddened - we used to pride ourselves on how peacefully we lived together for years."
However, Haddam insisted, "we are considering it a big feud in one clan, not a Muslim-Christian fight."
Cabinet names ready
In other developments, Egypt's new cabinet is due to be officially announced.
The list includes few Islamists and some holdovers from the outgoing military-backed team in key positions.
The cabinet is the first under newly elected Mursi, a senior Muslim Brotherhood official, who tasked his newly appointed prime minister, Hesham Qandil, with the job of selecting the cabinet.
Qandil's choices are seen as a key test of the Muslim Brotherhood's intentions. Two posts, higher education and the housing ministries, will be taken by Muslim Brotherhood members, said Al-Jazeera.