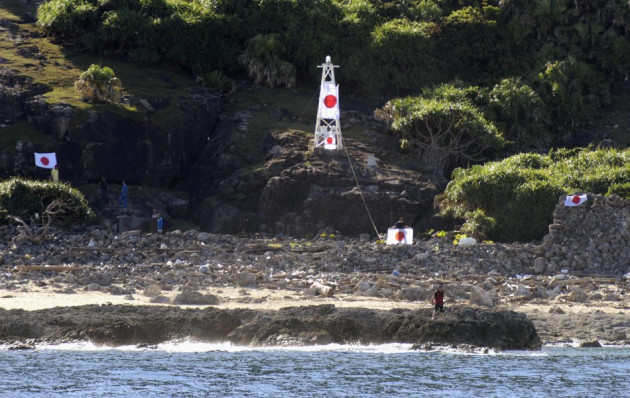 Japan has triggered a fresh row after a group of ten activists landed on the disputed Uotsuri island waving the Japanese flag.
Their action is bound to set off a diplomatic tussle between Tokyo and Beijing which have been having a running dispute over the territory for decades.
The activists jumped from a flotilla heading to Japan's Senkaku islands and swam to the disputed region. Japan's coastguard is investigating the matter as the activists were denied permission to travel to the islands earlier. The flotilla was set to commemorate Japanese World War II victims who died near the islands.
"This is a way of saying to not mess around. We hope to convey ... both to China and the Japanese people that the Senkaku are our territory," said activist leader Toshio Tamogami hours before the flotilla set sailing.
Only a few days earlier, another group of Hong Kong residents and Chinese had tried to storm the islands. They were arrested and deported by Japanese officials for unauthorised landing.
"Four days ago there was an illegal landing of Chinese people on the island as such we need to solidly reaffirm our own territory," Koichi Mukoyama, who was also aboard in the flotilla told the Guardian.
Tokyo is also planning to replace his present ambassador to China, according to local media reports. Uichiro Niwa, the ambassador, may soon lose his post as he is seen as misrepresenting his county's position on the island.
The foreign ministry in China has urged the Japanese to halt such activities which they feel are undermining China's territorial sovereignty. Foreign ministry spokesperson Qin Gang said : "Any unilateral action taken by Japan on the Diaoyu Islands is illegal and invalid," according to the official Xinhua agency.
It added: "The Japanese government has refused to give permission to land on the Diaoyu islands, but the group is free to sail near them. The action aims to reassert Japanese ownership of the islands."
The Japanese landing on the disputed regions sparked off several protests inside China. More than 100 protesters were seen outside the Japanese consulate in southern Guangzhou demanding that the activists leave the islands, according to reports. Shenzhen, Qingdao and Harbin also witnessed protests.