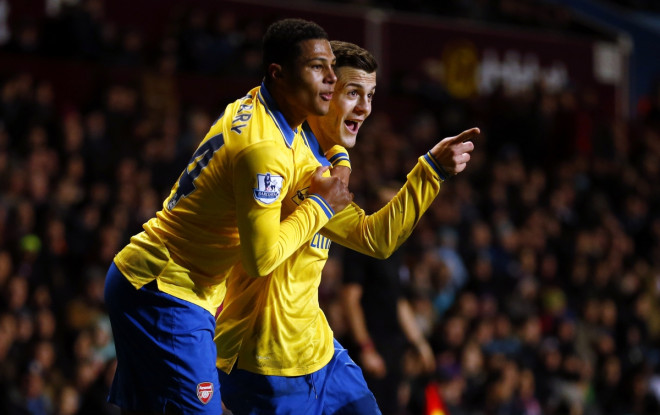 Arsenal youngster Serge Gnabry has revealed that his life has been transformed after making it to the Arsenal first team on a regular basis this season.
The midfielder scored his debut goal against Swansea City after Aaron Ramsey played him in at the Liberty Stadium earlier in the season. Since then the 18-year-old has had some memorable moments with the first team and has made himself a permanent feature of the squad, even though he does not start in all games.
However, his progression has been a major boon for Arsene Wenger who has deployed Gnabry on the right in the absence of Theo Walcott, who is out for the season with a cruciate ligament injury. The player, in spite of his inexperience, answered his manager's call and gave his best every time he was on the pitch.
The German starlet has gained some valuable experience this season. This should help him get a regular place in the squad next season, with Arsene Wenger set to make a series of additions to the squad.
"I am very happy with how this season has gone. I am a very young player, so to be alongside all these top players, in a squad with massive potential, has been really good. I have been involved in most of the games so I am very happy," he told www.arsenal.com.
"[My life] has changed a lot. Obviously you get more attention from fans and get recognised more often. Also, as a player you feel confident when you are in and around a team of top players. I'm just trying to get to the next level now.
"It makes you a better person. I have grown up a lot since I came from the youth team, and it is a good experience to be playing, training and learning from all the top players here.
"It is very tough to play in the Premier League; you have to be at a constant level - both physically and mentally. You have to prepare for the games and be spot on in them, so really that is the biggest challenge for me," he concluded.