Sergio Garcia has spoken of his delight at joining legendary golfing compatriots Seve Ballesteros and Jose Maria Olazabal as a Masters champion after finally ending his long wait for a major title on a sun-soaked Sunday (9 April) evening at Augusta National.
The Spaniard, a 19-year veteran of the PGA Tour who had previously recorded 22 top-10 finishes at major tournaments, pipped Justin Rose in a dramatic sudden-death play-off to end his barren run at the 74th attempt and claim a coveted green jacket on what would have been Ballesteros' 60th birthday. The five-time major winner, a double champion at Augusta and one of the sport's most charismatic figures, died in 2011 after a long battle with cancer.
"It definitely popped into my mind a few times," Garcia replied when asked how much he had thought about Ballesteros during the week. "There's no doubt about it. Today, a couple of times here and there. I'm sure he helped a little bit with some of those putts."
He added: "To do it on Seve's 60th birthday and to join him and Olazabal, my two idols in golf, it's something amazing. Jose sent me a text on Wednesday telling me how much he believed in me and what I needed to do, believe in myself, be calm and not let things get to me as I had in the past."
While understandably disappointed after such a near miss, reigning Olympic champion Rose, whose sole major success to date came in 2013 when he became the first English winner of the US Open for 43 years at Merion, expressed his happiness for his friend and European Ryder Cup teammate.
"I felt in control all day, but I'm really happy for Sergio," he told BBC Sport. "Obviously I'd love to be wearing the green jacket, but if it wasn't me, I feel good for him."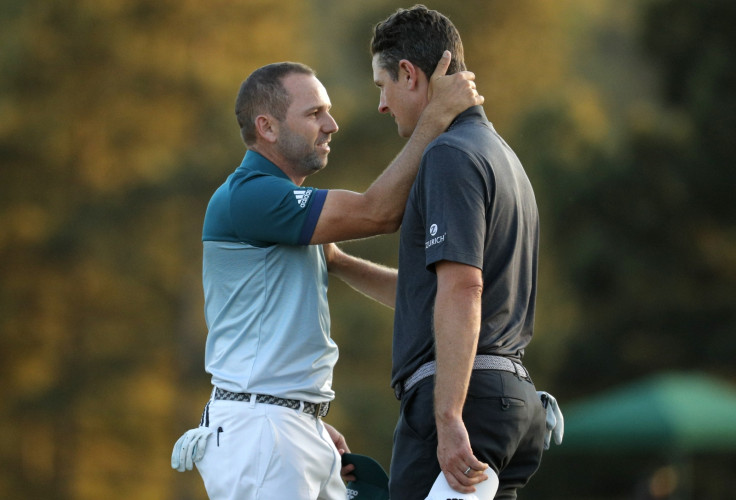 "We've been friends for a long time and have been playing golf against one another since we were 14 years of age. We're both going to get up tomorrow morning and our careers are going to go on. He's going to be happy for about a month and then golf's going to take over. I'm going to be disappointed for about a month and then golf's going to take over and I'm going to carry on.
"There's many more goals this year, there are many more objectives. I look forward to the US Open, The Open Championship at Birkdale is always going to be a big one for me. This was obviously the highlight of the spring and one we target for a very long time. It's disappointing to come so close, but the year is only getting going now."
The golfing fraternity were quick to pay tribute to Garcia, previously dubbed as the best player never to win a major.