Sergio Ramos hopes Manchester United lure Antoine Griezmann away from Atletico Madrid, as it would make things easier for Real Madrid in La Liga.
Griezmann, 26, has been heavily linked with Manchester United in recent days after the player rated his chances of moving to Old Trafford ahead of the 2017-18 campaign at "six out of ten".
On Tuesday (30 May), Spanish radio station Cadena Cope reported that the France international had taken a decisive step towards completing that move, informing Atletico of his intention to leave Los Colchoneros during the coming summer transfer window.
Atletico are unlikely to negotiate his departure at any price as the Frenchman has become a key player for Diego Simeone since his arrival from Real Sociedad in 2014. Griezmann has scored 83 goals in 160 appearances, including 26 during the 2016-17 campaign.
However, Simeone has seen other crucial players leave Atletico in recent seasons and would be unable to prevent a departure if Manchester United agree to trigger the player's €100m (£87.4m, $11.7m) release clause.
Ramos has welcomed that speculation as the potential transfer of Griezmann to the Premier League would mean less of a headache for Real Madrid when they face their neighbours next season.
"If they [Manchester United] take him, if they take him out from Atletico, it would be less of a problem for us ahead of next season," he told Cadena Cope when asked about Griezmann's potential move to United.
"Every footballer is their own world and one must make these kind of decisions. Sometimes they are difficult and sometimes they are not. Everyone has to decide where he wants to be, where he is going to be happy. He is a great striker and obviously the top clubs express interest in getting their services. He can decide what he wants."
Ramos himself was the subject of a similar transfer saga in the summer of 2015, when Louis van Gaal tried to lure him to Old Trafford.
The Real Madrid captain admitted then that he considered an offer amid suggestions that his relationship with president Florentino Perez broke down due to a dispute over his contract.
Ramos, however, finally decided to stay at Real Madrid after Los Blancos agreed to hand him a lucrative new deal.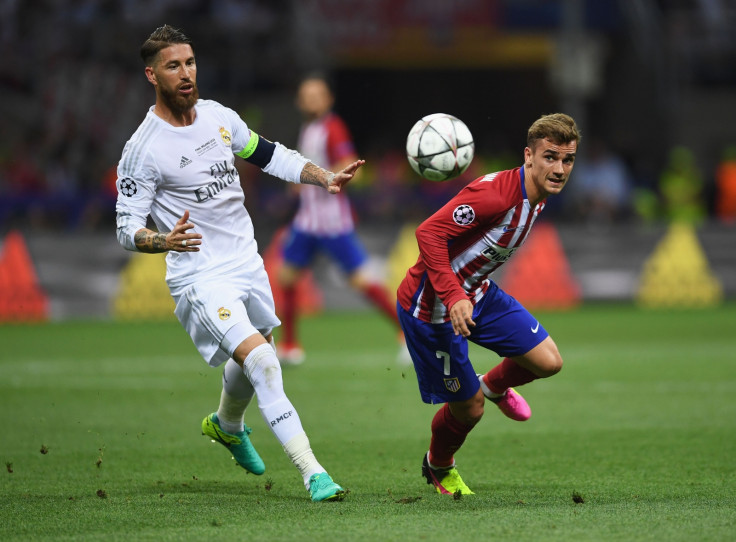 The decision paid off as the captain said that he could not be happier ahead of Saturday's (3 June) Champions League final against Juventus.
"I would say [that this is the happiest moment of my life]. The family and the children give you an emotional stability that helps you to perform better on the pitch," Ramos admitted. "It has been a very good season. Not just because of the goals, but because how I have felt physically. Being the captain gives me a bonus and that makes me enjoy the triumphs even more. This is one of my best moments and hopefully it lasts until the end of my contract."