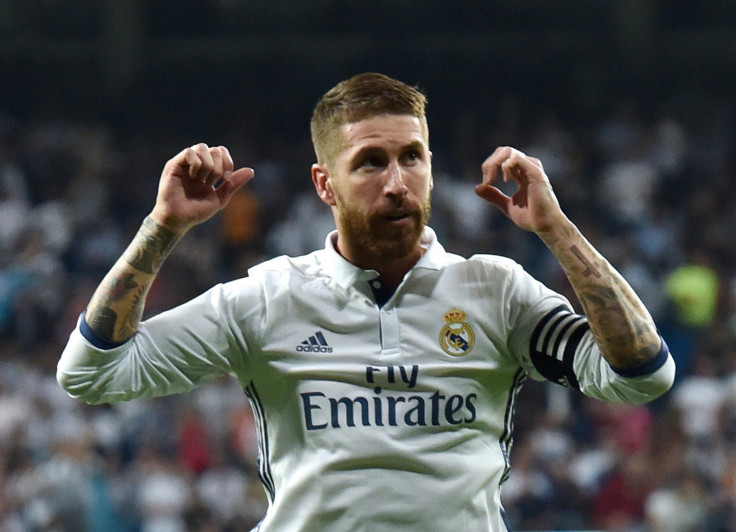 Real Madrid in-form captain Sergio Ramos is set to miss the Fifa Club World Cup semi-final against Club America on Thursday (15 December) due to an injury. Gareth Bale is also ruled out as he has stayed in Madrid to continue the recovery from his recent ankle surgery while Pepe has emerged as a late doubt after missing Wednesday's training session.
Ramos has made the headlines at the Santiago Bernabeu in recent days after scoring two crucial late goals against Barcelona and Deportivo la Coruna. The 30-year-old centre-back netted the equaliser in El Clasico to keep Real Madrid's six-point gap over the Catalans at the top of La Liga before scoring a dramatic injury-time winner in the 3-2 victory over Deportivo on weekend.
However, the Spaniard has been unable to train since Monday and Zidane has now revealed that he will be unavailable for the semi-final against Club America.
"Tomorrow Ramos will not play. It's nothing but he's suffering a bit after the trip. He's a bit tired and he's a bit overloaded. He will not play tomorrow and we will see for Sunday," Zidane said, in the press conference ahead of the game with the Mexican side.
The Real Madrid boss suggested the rest of his players were ready to face-off with America but Pepe's availability has come under some scrutiny after the club revealed he missed the Wednesday's training session.
Meanwhile, Cristiano Ronaldo, Karim Benzema, Luka Modric, Marcelo, Raphael Varane, Lucas Vazquez and Dani Carvajal are all expected to start on Thursday after being rested during the win over Deportivo.
"Tomorrow you will see the line-up," Zidane said. "We are ready to play, only Sergio is out. If he could, he would play. We are ready for tomorrow and I will put the best team possible out. We have a lot of options but the idea is to put out the best team."
Meanwhile, the Real Madrid boss refused to take anything for granted despite the fact the Champions League winners are clear favourites to go through the final.
"I do not think we're favourites," Zidane said. "We're going to have to play a game that... we'll have to be careful. A lot of people may think we will win easily. We are going to play against a very good opponent that can cause us problems. The game is not won and that's what I'm going to tell my team."
"We are going to have a complicated and difficult match. I do not know who will have the ball, we'll see tomorrow. Before a match is always even. We will not think about other things. Every game has to be played and fought for. We will problems just like them".