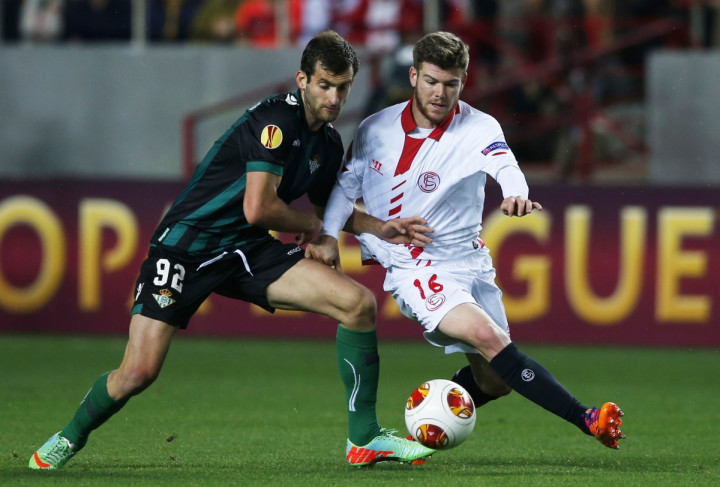 Liverpool are reportedly edging towards completing a deal in signing Sevilla left-back Alberto Moreno.
According to Sevilla based newspaper Estadio Deportivo, the La Liga star is expected to be in Liverpool over the next few hours to complete his transfer.
The 21-year-old left back has been linked with the Reds from the beginning of the transfer window. Liverpool, who have had problems in their left full-back position, feel Moreno is the long term solution needed to plug it.
Moreno was recently quoted as saying that he is very happy at Sevilla and is not looking for a move this summer. However, he also stressed that his focus was only on playing and his father, who doubles as his agent, would decide on his future.
The report claims the Spanish international is travelling to Liverpool with his agent Javier Moya to complete his €20m move from the current Europa League champions on a five-year contract.
Moreno could be a great capture for Brendan Rodgers and will be Liverpool's third signing of the summer transfer window. The Merseyside club have already sealed a deal for Rickie Lambert from Southampton and agreed a deal in principle with Bayer Leverkusen for their midfielder Emre Can.
Meanwhile, Simon Mignolet spoke about how the sheer size and popularity of Liverpool across the world dawned on him during his first pre-season tour with the Reds. The Belgium stopper joined the Anfield club from Sunderland last summer.
"A few days after I arrived we played in Asia, and that's when it dawned on me just how big the club was," Mignolet told FIFA.com.
"We went to Australia, Thailand and Indonesia, and there was huge excitement wherever we went. The fame of Liverpool stretches far beyond Europe."
Liverpool have announced their 2014 pre-season tour to America which includes matches against Manchester City and AC Milan. The Anfield outfit will also take part in the Guinness International Champions Cup which is being held in Chicago.