Sex Industry Sinks and Suicides Surge in Greece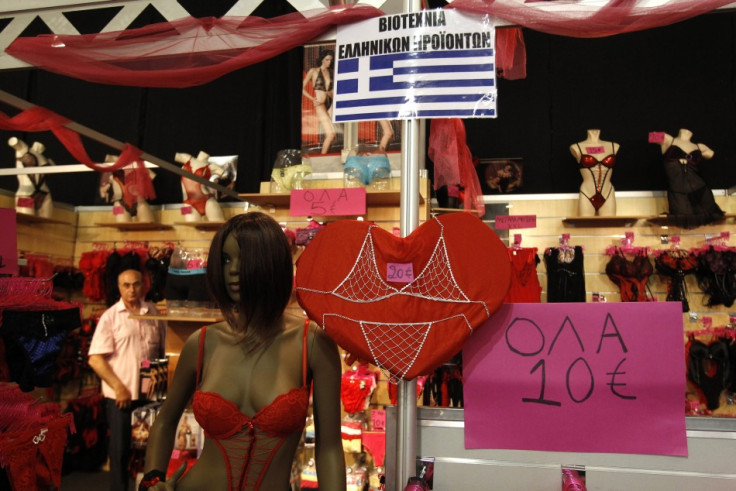 Sex industry in Greece has become the latest victim to the financial woes that the country is going through for the past several years.
Recent reports suggest that the once thriving sex industry has taken a deathblow as the Greeks tend to spend less on sex related items like adult toys and pornography.
'Athens Erotic Dream' which is the country's biggest annual sex fair attracted only a far less crowd when compared to that of previous years.
"We used to get 20,000-30,000 visitors, but this year I don't know, we'll just have to see," said the fair's organiser George Chrysospathis, reported Reuters.
Less than half of the exhibitors only survived in these five years since the fair started in 2008.
"We're making just 20 euros a day, if at all. Some customers just don't feel like having sex - others can't afford to buy our stuff in the crisis," says a retailer Marianna Lemnarou according to the Reuters report.
The sex industry in Greece is largely based on small businesses that depend completely on foreign suppliers rather than on single wholesaler. Hence the retailers also seem to face a stiff competition from abroad.
Goods from Chinese and Turkey are seemingly killing the local retailers who mainly thrive through this business.
Meanwhile, the suicide rates continue to surge in the country over the financial crisis. The latest one being reported in Athens is of the 61-year old pensioner who hung himself in a park on Wednesday.
The body was found with a suicide note in the pocket.
"The police does not know me. I have never touched a drink in my life. Of women and drugs I have never even dreamed of. I have never been to a kafenio (coffee house), I just worked all day! But I committed one horrendous crime: I became a professional at age 40 and I plunged myself in debt," the note read, according to the Athens News.
In his emotional note, the 61-year old also prayed that his grandchildren are not born in Greece seeing as there will be no Greece hereafter.
"Let them at least know another language, because Greek will be wiped off the map! Unless of course there was a politician with Thatcher's balls so as to put us and our state in line," the suicide note read.
The incident is only a tip of the iceberg and the cases of suicide have been constantly reported by the Greek media over the past few months.
Only last week, a mother and son duo committed suicide by jumping off the window from their apartment.
© Copyright IBTimes 2023. All rights reserved.