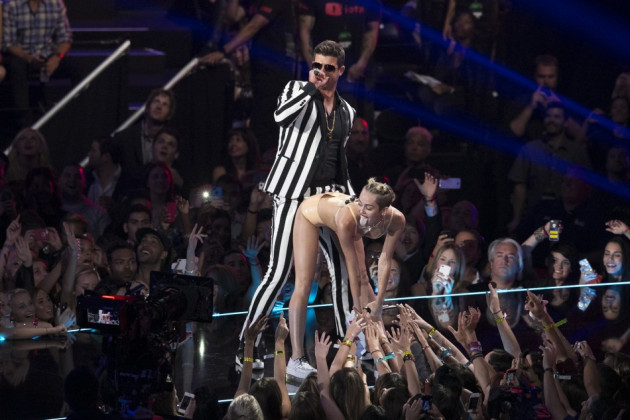 A campaign is to be launched to combat the sexualisation of pop videos and introduce a film-style rating system warning of explicit content.
The Rewind and Reframe campaign will petition prime minister David Cameron and the music industry to take action to limit the exposure of young people to the videos.
Tomorrow at Westminster, MPs will launch a website, where women and girls will be able to blog and provide their views on sexualised videos. The prime minister's adviser on children, Claire Perry MP, is to attend a debate afterwards, in which measures including the introduction of a rating system, and compulsory notification that photographs have been airbrushed, will be discussed.
Both were recommended by the Bailey review into the sexualisation and commercialisation of childhood carried out earlier in the year.
It is believed that Perry has the backing of Cameron to introduce more legal measures to tackle the issue.
The campaign comes after a slew of videos by pop stars, including Miley Cyrus and Robin Thicke, have raised concerns for their graphic content.
A survey last week by parenting website Netmums found that of some 1,500 website members, most (82%) said their children had repeated sexual lyrics without knowing their meaning.
And three-quarters said they tried to stop children watching music videos.
Most (75%) of parents with daughters said very sexual pop acts were teaching girls they would be "judged on their looks, not their achievements or personality".
Labour MP Kerry McCarthy, who had a key role in organising the campaign told the Observer: "When I was young, videos showed Abba wearing tight Lycra trousers and wriggling their bottoms - now, it has become more sexualised.
"We're being convinced there must be some harmful impact of this, even if it's just some women feeling more vulnerable and insecure. I'm particularly interested whether it has an impact on male behaviour. Anecdotally, there is evidence to suggest it does."
Campaigners against sexism welcomed news of the launch.
Laura Bates, founder of Everyday Sexism, told the paper that the lyrics in some songs are becoming "increasingly sexually violent, ramming home the idea that sex is about forcing women to do things and men getting what they want".
However, others warned that age rating systems were easy for children to bypass, and that there was no simple solution to the problem.
Justine Roberts, founder of the website Mumsnet, said yesterday: "There's no doubt there's a huge amount of racism and sexism in music videos and it's great that this campaign raises awareness about it. I can't see any reason why these videos wouldn't be classified in the way that other forms of media are but the truth is that it won't be a silver bullet.
"Technology these days makes it pretty nigh-on impossible to stop under-18s viewing and sharing this kind of material so as parents it's important to talk to them about what's wrong with it. As a society we need to consider how we've got to a situation where misogyny and racism is so commonplace."