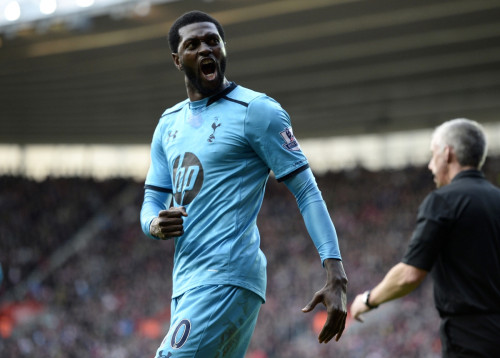 Tim Sherwood has confirmed that Emmanuel Adebayor is raring to go for Tottenham today with the Spurs manager insisting Arsenal will be intimidated by the in-form striker.
Adebayor has made a stunning comeback to the north London side's line-up on the back of a changeover in managers at the end of last year. The Togo international has scored four times in his last five showings for the club and having played for Arsenal Arsene Wenger is well aware of the threat the star poses.
And while it was feared that Adebayor might have missed the all-important FA Cup clash between Tottenham and Arsenal this weekend Sherwood has confirmed he is ready to start despite looking injured in their last match with Manchester United.
"It didn't look great when he came off on that stretcher [at Old Trafford] but he is a warrior," Sherwood told reporters.
"He was in real pain. He couldn't walk after the United game and he was getting cramped up everywhere so for him to put himself in the frame for another huge game is a real credit to him.
"There is no holding him back at the moment."
Sherwood insisted that with Adebayor fit Arsenal will know just how tough the match will be and will be disappointed that the 29 year old is able to play.
"When the team-sheet comes there are certain players you scan for straight away to see if they're playing," he explained.
"I did it at Old Trafford to see if Wayne Rooney was playing and I'm sure Arsenal will be doing the same with Adebayor.
"It's huge for us that he is fit.
"When Arsene Wenger, the Arsenal players and their fans saw him come off at Old Trafford, I'm sure they were pleased.
"But unfortunately he's going to be walking out against them on Saturday."