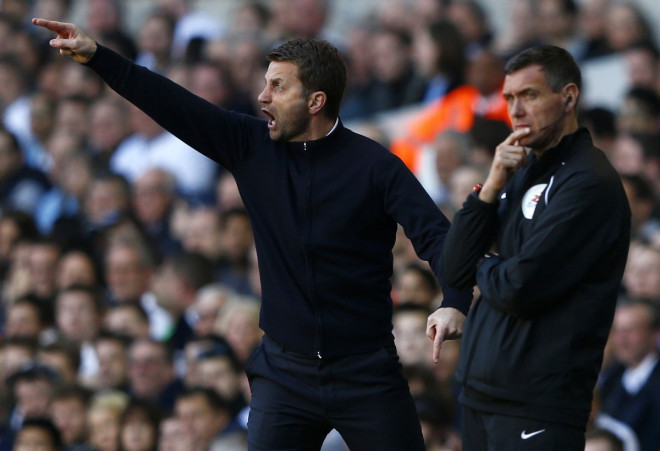 Tottenham manager Tim Sherwood believes that he does not know his best team yet and that the current squad has only two must-pick players in the form of Hugo Lloris and Emmanuel Adebayor.
Sherwood, who took over from Andres Villas-Boas has not been able to take Tottenham to the heights they were tipped for before the start of the season, with the club from north London spending more than £100m on transfers after selling off Gareth Bale to Real Madrid.
The record splurge had urged the media and pundits alike to mark Tottenham as favourites to usurp Arsenal from the fourth spot.
However, a series of bad results under the former manager and a lack of cohesion in the squad has taken the team apart, who have struggled against teams in the top half of the table.
Sherwood did not make any transfers in January and are currently in sixth spot, three ahead of Manchester United, having played a game more. Sherwood has been tipped to move out of White Hart Lane next summer, with chairman Daniel Levy on the lookout for managers who can make a difference.
Sherwood has blamed the lack of familiarity in the squad and that the same will be much better next year when the players get to know each other. The manager also hailed Lloris and Adebayor, who have been the pick of the players and helped his team maintain pace with the teams in the top five.
\"I have assessed the players more than anyone. I could not tell you the best eleven players at Tottenham,\" Sherwood said.
\"There are all so similar, much of a muchness regarding the same quality. I\'m not sure there\'s any hierarchy. Or whether any one player is better than another.
\"Our two exceptions are the goalie and Adebayor. Christian Eriksen is getting that way inclined, you can\'t leave him out at the moment.
\"All of them will benefit from a year. All of them will be better, without a doubt, because they will have had a season in the Premier League. That\'s the ones who have played. You need to have a certain amount of games.
\"Probably Erik and Etienne have not played enough but they will have benefited from a year in London and their language will be better and hopefully they can settle on the pitch.
\"The rest of them will all be better. All of them can improve,\" he concluded.