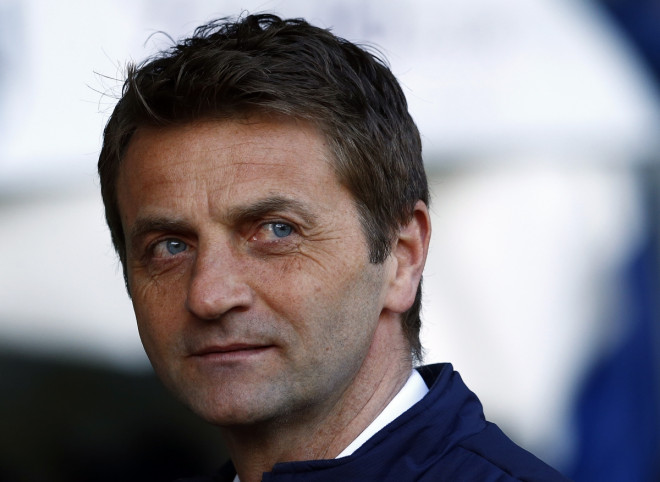 Tim Sherwood has revealed that even he is unaware of how his future will pan out at Tottenham, though he insists it's business as usual at White Hart Lane as the manager considers his transfer targets for the summer.
Sherwood signed an 18 month deal with Spurs in December after Andre Villas-Boas was sacked from the position. His future has constantly been under scrutiny and with Tottenham aiming for Europa League qualification this weekend it would appear he hasn't achieved the objectives set out by Daniel Levy at the beginning of the season.
Frank De Boer has admitted to liking the idea of a move to the north London club while on the back of a successful season with Premier League side Southampton, Mauricio Pochettino is also believed to be on Levy's list of possible replacements for Sherwood.
But the former Tottenham midfielder says he has made plans for the summer and is waiting to see what Levy wants to do about them.
"We are focusing on this last game against Villa we want a positive result and then we will sit down and have a chat," Sherwood told reporters.
"I have to wait to see the chairman and see what the future holds. We have already discussed pre-season and I gave a list of players to the chairman and to [sporting director] Franco Baldini of who I recommend we keep, who I recommend leave and who I recommend come in. They haven't given me an indication how they are moving forward with that."
This week Sandro claimed that his agent told him Sherwood would be sacked in the coming days but the manager insisted such comments are not yet fact.
"If I need any information I'm better off asking the players, he is not the first player to have asked me," he explained.
"He hasn't actually asked me, he has just given his opinion to someone.
"I'm not sure if the chairman has spoken to Sandro, but obviously someone has told him, the players see a lot of speculation don't they.
"It begins to be more than that, I have had a lot of players come to me and say their agents have told them that I'm not going to be here next year, it is a very difficult situation but I have got to get on with it."
Sherwood noted that while at Tottenham he accumulated enough points to take Spurs into contention for the top four but the damage was done during Villas-Boas' spell and the side never looked like seriously competing for Champions League football.
While Pochettino is reportedly the favourite to take on Sherwood's position, making for a fourth manager in three years, the Argentine has revealed he will talk to the Southampton board before making any decisions on his own future.
"This Sunday when the game finishes with Manchester United a project of five years that has been happening will come to an end," he said.
"It's up the board to discuss with me the new project that will be in place starting next season.
"It's not really up to me to decide when those talks happen but the club overall has to explain to me what this new project consists of and how it's going to start next season."
Southampton's game with Manchester United could be particularly important to Tottenham as the side fight with Ryan Giggs' men for the final Europa League place.