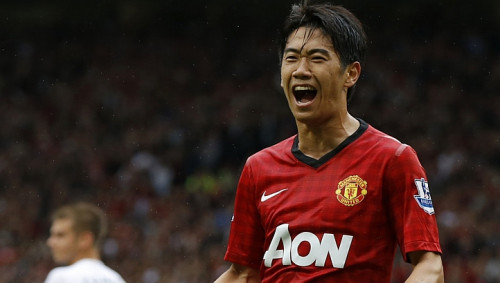 Manchester United midfielder Shinji Kagawa has rued his form this season after playing a peripheral role under David Moyes.
Despite only joining United from Borussia Dortmund in the summer of 2012, Kagawa has starting just seven times in the Premier League this season and when selected has produced a series of insipid displays.
The 24 year old's opportunities during the second half of the campaign are expected to be further limited by the arrival of Juan Mata from Chelsea and the United man is hopeful of staging a turnaround in his form.
"I still haven't scored any goals this season so I've felt very irritated," he said. "This is the first time in my career that I haven't been able to produce, so it's disappointing.
"I pressure myself to score in every game but some days it feels like I just can't win. I know I have to overcome that; actually if I can't it really shows that I haven't grown as a player. So because of that I have to really focus on the second half of the season and overcome that mental block."
With Mata ineligible for the Champions League, Kagawa's best chance to stamp his mark on the United first team during the second half of the campaign will be in Europe, where he started five of the club's six group games.
United face Greek champions Olympiakos in the last 16 hoping to go one better than last season which saw them crash out to Real Madrid.
Kagawa added: "Last year we lost to Real Madrid so this time we want to beat Olympiakos and reach the quarter-finals. Of course our goal is to reach the final and to win the championship. The whole world watches [the Champions League] and it's the top club competition in the world.
"Last year Dortmund made it to the final and I got to watch my former team-mates play there, so this time I want to have better memories of the tournament. [If Manchester United get through I'd like to face] Dortmund or Barcelona. I'd like to play against Messi and Iniesta.
"I used to play for Dortmund, I have friends there and the fans know me so I want to experience that dread of going to that stadium as the away team and I'd like to see how Dortmund would react.
"Even if they boo me, I'd be happy because it shows they recognise me. Of course I'd also look forward to meeting all the players and coaches and being in town again.
"Barcelona are playing the best football in the world so that's the most important thing. Iniesta is my ideal player; I've watched him throughout my career and hoped to be like him. It's fun to watch him play and that's the kind of football I'd like to play."