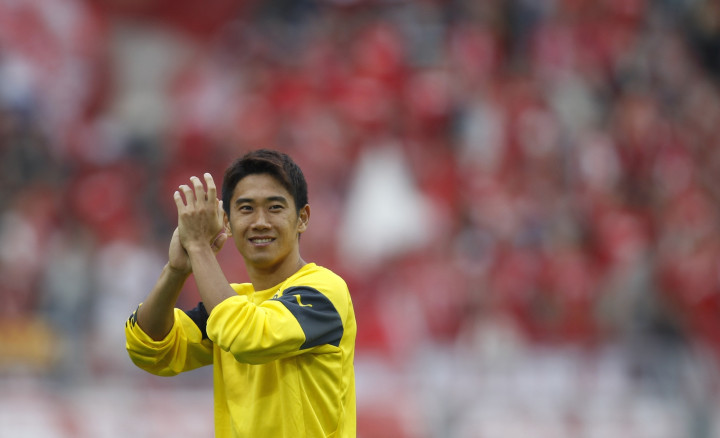 Shinji Kagawa admits his heart has always been with Borussia Dortmund, even during his two seasons at Manchester United.
The Japanese international arrived at Old Trafford to much fanfare during the summer of 2012 but, despite sporadic moments of magic, he failed to impose himself on the first team consistently, with injury troubles one of the issues holding him back.
Kagawa's struggles continued under ex-United manager David Moyes last season, where his impact diminished further during the club's worst season in the Premier League era.
The midfielder's exit from Old Trafford was decided when Louis van Gaal suggested the 25-year-old was not willing to fulfil his wishes on the pitch, and when it came to finding an new club there was only one place Kagawa wanted to be.
"My decision was clear, I wanted to return to BVB and only BVB, Kagawa said. "I want to achieve success with this club again and with no other.
"Only facts matter in football - stats, goals, assists, titles - and a lot was missing in this regard. That was probably why they [United] no longer included me in their plans.
"Everybody knows that my second year at Manchester United was particularly difficult. The manager did not really count on me and the team was also on a bad run. That means I am all the more delighted to be back. My heart had remained at BVB anyway."
Signs of Kagawa's imminent departure emerged during United's pre-season tour when Van Gaal suggested the player was not willing to adapt to his system.
"Kagawa did not wish to fulfil my wishes, my philosophy when I played him in the United States," the Dutchman said. "Kagawa was a number 10 at Dortmund but I want to try him at number six and number eight."
United paid Dortmund a reported fee of £17m including add-ons but allowed him to leave for £6.3m in the summer.
The midfielder completed his dream return to Jurgen Klopp's side and scored 40 minutes into his first game back at the club against Freiburg on Saturday 13 September.