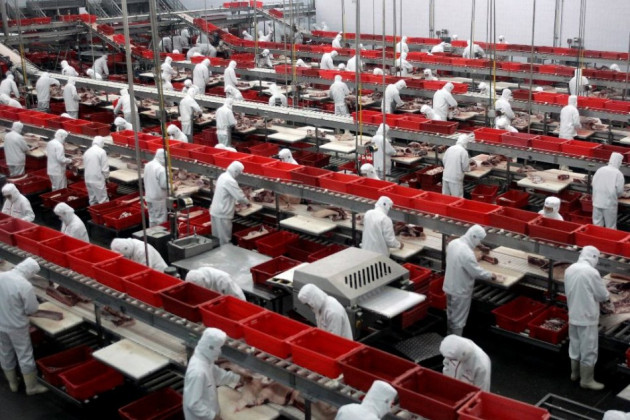 China's Shuanghui International, which bought American pork producer Smithfield Foods earlier this year, has tapped six banks ahead of its proposed flotation on the Hong Kong Stock Exchange (HKEx).
Shuanghui International, which is looking to raise as much as $6bn (£3.7bn, €4.4bn) through the planned offering, has approached BOC International, Citic Securities International, Goldman Sachs, Morgan Stanley, Standard Chartered and UBS to lead the share sale.
However, the bank line-up has not been finalised, reported Reuters.
In addition, the deal size could change and an unnamed source told the news agency that it could hover in the $3bn to $4bn range.
At $6bn, the Shuanghui IPO would be the biggest in the Asia Pacific since insurer AIA Group's $20.5bn Hong Kong listing in October 2010.
The Hong Kong bourse demands one year of ownership before a merged entity can list its shares. Therefore the IPO is expected in the second quarter of 2014, according to an IFR report.
A share sale will allow Shuanghui to repay debt borrowed for the $4.7bn Smithfield acquisition.
The IPO will also provide a potential exit route for Shuanghui's private equity investors. The firm counts China's CDH, New Horizons, Goldman Sachs and Singapore's Temasek Holdings among its shareholders.
China's CDH Investments owns 33.7% of Shuanghui International through several funds. CDH made its first investment in the firm in 2005.
Goldman Sachs' investing division holds a 5.2% stake. New Horizons, founded by Winston Wen, the son of China's former premier Wen Jiabao, holds a 4.2% stake. Investor Temasek has a 2.8% stake.
"The IPO will give a platform for existing shareholders to cash out of their investments, but it will have limited impact on the operations of the company," Anson Chan, an analyst at KGI Securities told Reuters.
"But the IPO will be a milestone in Shuanghui's journey from a local company to an international food company, which underscores the maturing of China's food industry," Chan added.
IPO Boost for HKEx
The Shuanghui IPO would follow an up to $5bn offering for Hong Kong billionaire Li Ka-shing's Power Assets.
Together, the two deals would come as a welcome relief for the Hong Kong Stock Exchange, which has seen IPO volumes drop in the last two years.
In September, Chinese e-commerce giant Alibaba Group decided to list in the US, instead of Hong Kong.
Alibaba wants its partners - the founders and senior employees - to be able to control the composition of its board, post a listing, a privilege not available at the Hong Kong bourse but granted in the US.
Smithfield Deal Controversy
The Smithfield transaction, the biggest Chinese acquisition of a US company, became controversial as some US politicians raised concerns about food safety and domestic pork supplies, as Shuanghui aims at supplying Chinese customers who have a growing appetite for pork.
In line with the recent food scandals in China, the acquisition was subject to strict scrutiny by US regulators, who also considered the handing over of Smithfield's animal gene technology to America's chief global competitor.
The clearance from CFIUS made it possible for Shuanghui to inch closer to a deal.
Shuanghui and Smithfield have combined annual revenues of about $18bn, according to last year's sales figures.