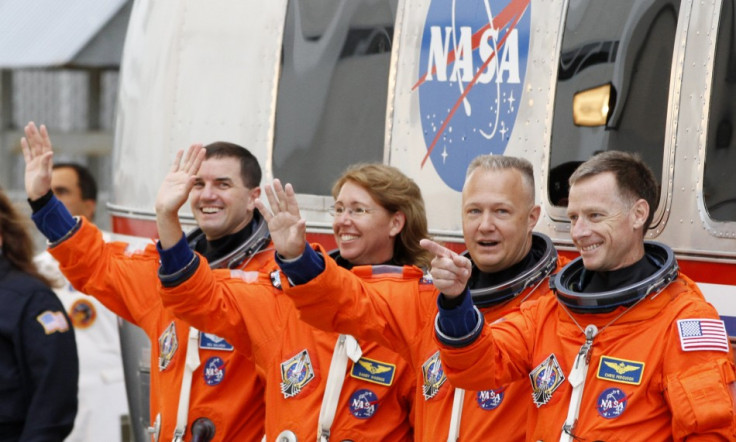 She's been in space 32 times since 1985, and orbited the earth 4,648 times, but today will be the last launch of the Atlantis Shuttle, and of NASA's 30-year space shuttle program.
The space shuttle Atlantis is scheduled for a 11:26 AM lift-off, if the weather allows it. After days of relentless rain and storms - lightning hit a water tower about 500 feet from the launchpad at midday Thursday- the skies were less cloudy on Friday morning, apparently clearing the way for an on-time launch.
"We do have a shot at this today," Flight director Mike Leinbach said, although officially the weather report showed there is still a 70 per cent chance of postponement.
Tanking took place during the night, despite earlier lightning which threatened the key step in the mission.
On this final voyage, Atlantis will carry a year's worth of supplies to the international space station, which objects including everything from a cell phone to a new ammonia pump to replace a broken one at the station.
The mission will also send a robotic refuelling mission, an experiment designed to test tools and technologies to robotically refuel satellites in space, NASA said. It will take 12 days to carry the 8,000 lbs. of supplies.
Hundreds of thousands of people already began gathering before dawn Friday in public areas to witness the last launch.
However, while the support of the crowd is welcome by NASA, officials said that if the mission is postponed, they could keep staff from getting home quickly enough to get back to work for a Saturday launch.
As the preparations are now firmly underway, astronauts have put on their flight suits and boarded the shuttle Atlantis.
Despite the temperamental weather, technicians began fuelling the shuttle overnight in hopes the flight could go ahead as planned at 11:26 a.m. ET, said Canadian astronaut Chris Hadfield and flight commander Christopher Ferguson appeared to be hoping for the best. He jokingly called on the crowd for more applause as he approached the spacecraft and gave thumbs up as he was strapped in.
"It's cloudy here but there's a chance of launch," Hadfield told CTV's Canada AM from Cape Canaveral, Fla.
"We'll see how it goes. Atlantis is out on the pad, the weather was good in the middle of the night so they decided to completely fill it with fuel."
On Friday, VIPs including four members of the Kennedy family, the first shuttle pilot Robert Crippen, and singers Jimmy Buffet and Gloria Estefan had made their way to Cape Canaveral for the launch.
If Atlantis can't launch on its 12-day mission Friday, it will have to blast-off by Monday or Tuesday or face a delay that will last until July 16, due to the planned launch of an unmanned rocket next week.