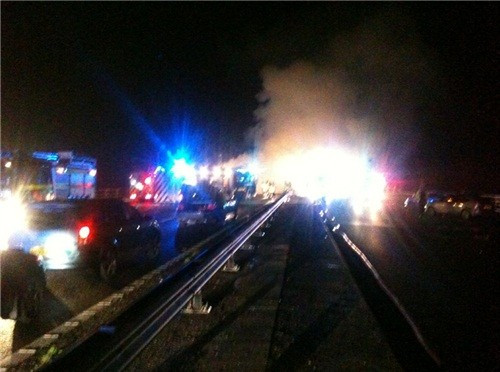 While the embers of the horrific M5 fireball still burn in people's memory, the police claim to have found ample leads which may help them crack the mystery as to what really happened that day. The crash has been described by eyewitnesses as "the worst crash in living memory." They said the spectacle would stick with them forever. The carnage took place at around half past 8 on Nov. 4, close to Junction 25 near Taunton, Somerset.
The Mirror has reported that around 200 leads have come up offering assistance in the M5 crash probe.
Detective Superintendent Mike ­Courtiour told the Mirror: "We have received a huge number of calls and messages. ... This has raised nearly 200 actions for us to follow up. ... We are working hard to speak with everyone."
As of now, it is unknown as to what caused that massive pile-up, but foggy and wet conditions on the motorway are speculated to have triggered it.
The horrifying crash snowballed into a massive fireball, said witnesses, spewing debris all over. A total of 34 vehicles were involved in the accident in which seven people lost their lives. A total of 51 people have been injured.
"Overnight all the vehicles involved in this tragic incident have been removed from the scene. Our worst fears have not been realised and the number of those that sadly lost their lives remains at seven," said Anthony Bangham, assistant chief constable, while clearing the vehicles off the highway.
He added that a number of passengers were unable to escape from their burning cars and hence a lot of people lost their lives. "The incident was very, very challenging and on arrival crews were faced with literally one massive fireball."