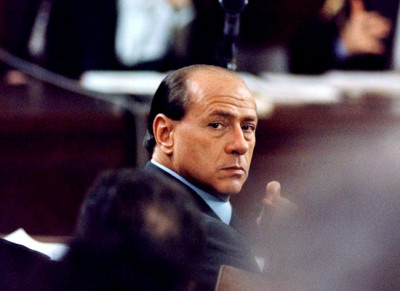 Silvio Berlusconi, Italy's controversial leader is trying to survive the latest political crisis affecting his career as Tuesday as he faces a crucial parliamentary vote which could bring down his stricken coalition after three years in power.
Outspoken, flamboyant and a little vain, Berlusconi has long remained a compelling presence on the international scene despite facing domestic criticisms for his handling of Italy's affairs.
Despite a domestic public divided between the Berlusconi lovers and haters, Italy's prime minister has now managed to survive a series political crisis and sex scandals.
Berlusconi's career is certainly marked by ups and downs, but despite numerous trials, no charges against him have ever been established in courts.
Born in Milan in 1936, Berlusconi was always attracted by the spotlight and started his career as a lounge room crooner, working on a cruise ship to help fund his law studies.
Money and power however first arrived through his entrepreneurial skills as a property developer in the late 1960s .
In the 70s he started to diversify by setting up a TV cable company, Telemilano, which would later be integrated in his Finivest group which also included department stores, insurance companies and the football club, AC Milan.
Berlusconi then turned his attention to politics in the early 1990s and formed his centre-right Forza Italia party and was elected as Italy's prime minister in 1994.
Following allegations of fraud and a dispute with his coalitions partners Berlusconi resigned just seven months after coming to power.
He lost the 1996 elections and was embroiled in more financial scandals but was cleared of any wrongdoing on appeal in 2000.
In 2001, he made a come-back and was sworn in as Prime Minister for a second time but left power in 2006.
He regained the PM position in 2008 under the banner of the newly-created People of Freedom party.
While he was praised for his handling of the L'Aquila earthquake, the politician was accused of having had an inappropriate relationship with an 18-year-old aspiring model whose birthday party he had attended.
His decline in popularity continued and he illicited public sympathy after being attacked during a campaign rally in 2009.
Meanwhile, his company, Mediaset was still under tax fraud investigation and the leader also had to face the deepening of a financial crisis.
More sex scandals followed after he was accused of having sex with an underage girl and the politician's famous "bunga bunga" parties came under increasing media and legal scrutiny, in the last few months.
Berlusconi denied all charges and accused prosecutors of conspiring against him in a left-wing plot. "Communism never changes in Italy. There are still people who use the penal code as a weapon in their ideological battles," he said earlier this year.
However his political vows did not end there with Italy's financial situation becoming critical, the leader's fate might be sealed after today's key parliamentary vote.
But Berlusconi's main coalition partner, Umberto Bossi of the Northern League, called on him to resign Tuesday morning.
"We have asked Berlusconi to step aside," he said. He added that the 75-year-old media mogul should be replaced by the secretary of his ruling People of Freedom party, Angelino Alfano.
The Northern League has been Berlusconi's closest and indispensable ally in Parliament for years. The prime minister will face Tuesday a crucial vote on Italy's public accounts as the interest rate on Italian 10-year bonds hit a new high of 6.733 per cent.