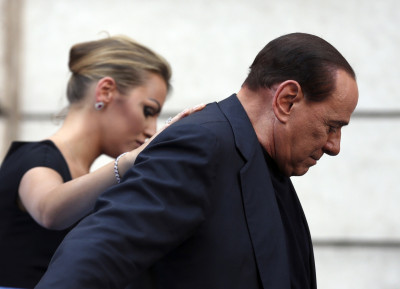 In a move in stark contrast with his political past, Silvio Berlusconi is said to have dropped the candidacy of a young woman for a role in his Forza Italia party because she was too beautiful.
The flamboyant former Italian Prime Minister and renowned womaniser reportedly decided against hiring a 34-year-old of Moldovan origin, because her beauty could have sparked the jealousy of his 28-year-old partner, Francesca Pascale.
Ana Damian, a door-to-door seller of vacuum cleaners, was singled out by Berlusconi as "the sort of person our party needs" during a Forza Italia meeting at his Roman residence, the Grazioli Palace earlier this week.
Berlusconi had been positively impressed by the story of the mother-of two, who left the Moldovan capital of Chisinau 20 years ago to find work in Italy, and reached personal success last year, when she received an award as best salesperson by her company, Vorwerk Folletto.
"I've been told there is a very good girl who has been awarded for selling the most vacuum cleaners," Berlusconi was quoted as telling his party members.
The 77-media mogul, who has reportedly failed to persuade one of his five children to become his political heir after he was banned from public office, envisaged to hire Damian as party promoter to gather votes for Forza Italia, La Stampa newspaper reported.
However the plan was opposed by Alessandro Cattaneo, the Mayor of the northern city of Pavia, who showed Berlusconi a photo of Damian on his iPad.
Berlusconi, who once infamously said "it's better to like beautiful girls than to be gay" and often entrusted former showgirls with public office roles, apparently decided the placement would be untenable.
A wide-eyed Berlusconi said: "What a beautiful girl, [but] I really can't contact her, who's with me would never allow it."