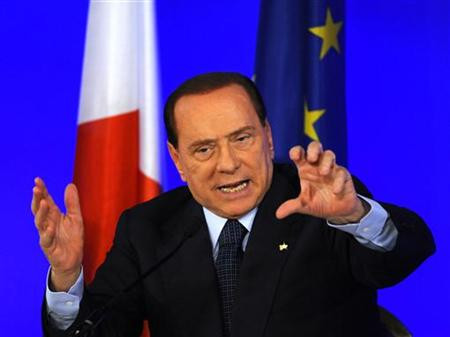 Italian Prime Minister Silvio Berlusconi could resign within hours in a dramatic move aimed at giving relief to financial markets in turmoil, according to two pro-government journalists seen as extremely close to the media tycoon.
After a heated summit with his party, Berlusconi reportedly offered to step down by Tuesday, when a key confidence vote on emergency economic measures is scheduled. Close advisers to the prime minister suggested he resign to allow his cabinet secretary Gianni Letta to form a new government which will include centrist politicians.
"That Silvio Berlusconi is about to resign is clear. It is a question of hours, some say of minutes." said Giuliano Ferrara, editor-in-chief of pro-government daily Il Foglio and long-time confidante and loyalist of the 75-year-old tycoon.
Franco Bechis, editor-in-chief of pro-government daily newspaper Libero, said that the Prime Minister will resign on Monday night or Tuesday morning.
However, Berlusconi said in a statement that rumours on his resignation are "totally unfounded".
Italy has the third-largest economy in the euro zone, and its political turmoil and debt worries are seen as a huge threat in the wider crisis facing the continent's single currency.
Italian stock markets have bounced back from early losses and jumped 3 per cent on these rumours. FTSE MIB rallied 2.3 per cent while Italy's 10 year yield dropped to 6.53 per cent. Uncertainty over the political disarray also hit Italian bonds Monday, pushing yields to a record euro-era high over 6.66 percent.
The spread over German bunds, reflecting the risk premium investors place on Italy, also hit a record 490 basis points on Monday morning.
Il Corriere della Sera newspaper only gave Berlusconi a 1 in 20 chance of surviving this crisis, after his interior minister admitted that the government had "perhaps" lost its majority in the lower house of parliament.
Berlusconi lacks the majority in Italian parliament to push through economic reforms and would become the second EU casualty after Greek PM George Papandreou agreed to stand down on Sunday
Berlusconi has been meeting and telephoning potential defectors since he returned Friday from the G20 summit in France, which agreed the IMF would monitor Italy quarterly to check its progress in passing long-delayed reforms.
Berlusconi tried to minimise this decision. "We can pull out whenever we want," he said. He also claimed that defectors would be "betraying the government and the country."