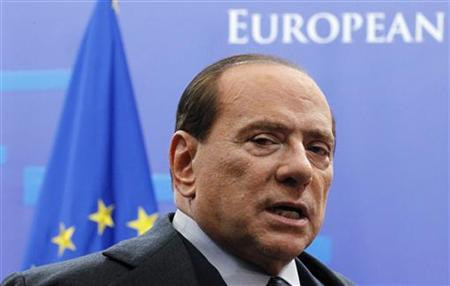 Italian Interior Minister Roberto Maroni declared Sunday that Prime Minister Silvio Berlusconi's centre-right coalition "has no majority in Parliament" as the government faces a key confidence vote Tuesday on emergency economic measures.
Maroni said he would prefer to call new elections rather than have a government headed by a new leader. He is a prominent figures in the Northern League, part of Berlusconi's coalition.
"The latest news leads me to think that the majority no longer exists and that it is useless (for Berlusconi) to be implacable," Maroni said on a Sunday night talk show.
"We have to give some answers to the EU. If the government is not able to meet its commitments with the European Union, it is better that it steps down and let the Italian president to decide what happens next," he continued.
Berlusconi is facing several defections by party rebels who are threating to oust the government in a backlash over its failure to adopt reforms.
The latest to jump ship is a former showgirl from his television shows, Gabriella Carlucci, who helped the media tycoon set up his Forza Italia party in 1994. The newspaper La Repubblica has estimated the number of potential defectors in Parliament at 20 to 40. But Berlusconi is resolute that he can fight on. "We have checked in the last few hours and the numbers are certain. We still have a majority," he told followers on Sunday.
Berlusconi has been meeting and telephoning potential defectors since he returned Friday from the G20 summit in France, which agreed the IMF would monitor Italy quarterly to check its progress in passing long-delayed reforms.
Berlusconi tried to minimise this decision. "We can pull out whenever we want," he said. He also claimed that defectors would be "betraying the government and the country."
"Berlusconi is bluffing in a last, desperate attempt to save himself. He no longer has a majority in the Chamber," said Dario Franceschini of the main opposition Democratic Party.
Italian press is writing off Berlusconi, with even pro-government newspapers calling on him to resign. La Stampa suggested he "to quit before a no-confidence vote," while the pro-Berlusconi daily Il Giornale, owned by his brother, said in an editorial that the prime minister "ought to step down and call new elections".
Italy has the third-largest economy in the euro zone, and its political turmoil and debt worries are seen as a huge threat in the wider crisis facing the continent's single currency.
Uncertainty over the political disarray hit Italian bonds Monday, pushing yields to a record euro-era high over 6.66 percent.
The spread over German bunds, reflecting the risk premium investors place on Italy, also hit a record 490 basis points on Monday morning.