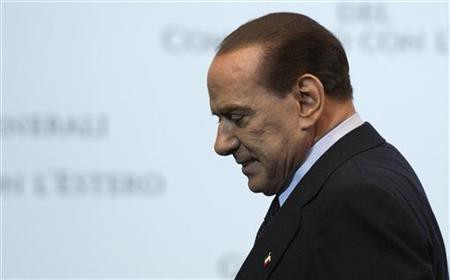 With Silvio Berlusconi facing the 54th -- and possibly final -- vote of confidence of his coalition in his third term alone, many wonder how the 75-year-old media tycoon has maintained his hold over the Italian public.
With three election victories, from 1994 to 2008, he has dominated the country's political landscape for neary two decades and become the longest-serving prime minister since World War II. Shadowing his political career, the allegations of embezzlement, tax fraud and false accounting brought him on court more than 2,500 times in 106 trials, at a legal cost of 200 million euros.
But neither these accusations nor the latest lascivious reports about his private life ever fully eroded his popularity among the public. His powerful mix of odd behaviour, outspoken speeches, self-confident populism and inappropriate jocularity apparently struck a chord with the Italian working class.
After the devastating earthquake that swept away the historic city of L'Aquila in 2009, for instance, Berlusconi was pictured by every Italian newspaper wearing a red firefighter's helmet and embracing an elderly woman who begged him for help. Every country desperately needs a narrative and a leader. Incarnating a conceited, cheerful but compassionate "man in the street", Berlusconi cast himself as the benevolent father of a nation in need and the embodiment of the Italian dream.
Italian pollster Renato Mannheimer explained: "He has an ability to create a direct rapport with the population. This is an ongoing process and is triumphing at the moment."
Starting as a cruise ship crooner in the south of Italy, Berlusconi made a fortune with Edilnord, a construction company that built housing developments on the outskirts of Milan. He began his political career in 1994, when he founded Forza Italia, named after a chant used by AC Milan fans. After the fall of the most influential Communist party in the Western world, Berlusconi appealed to the working class' post-ideological sentiments and desires with the aid of his compelling media empire. According to many experts, Italians who voted for him were already moulded by his television programmes in the 1980s, which displayed - for the first time in a deeply conservative country like Italy - half-naked showgirls and lascivious products of consumerism
Even if his three stints as prime minister were full of promises which came to nothing, Berlusconi exploited the deeply polarised nature of Italian politics and his natural ability as a salesman to hold the country's fate in his hands.
His latest gaffe at the G20 meeting in France last week encapsulates the thought of an Italian Everyman - a cab-driver or a factory worker, perhaps - who faces with unassailable optimism the difficulties of the financial crisis.
"Restaurants are full, it is difficult to reserve a seat on a plane, and holiday resorts during bank holidays are fully booked," Berlusconi said. "If you moved to Italy, I don't think you would sense anything that could resemble a strong crisis. We really are a strong economy. Italians are well-off. "
However, as anti-government daily newspaper La Repubblica said in an editorial, there is a growing percentage of Italians who are disappointed by Berlusconi's failure to deliver promises. Tuesday's vote on the Italian public accounts may prove them right.