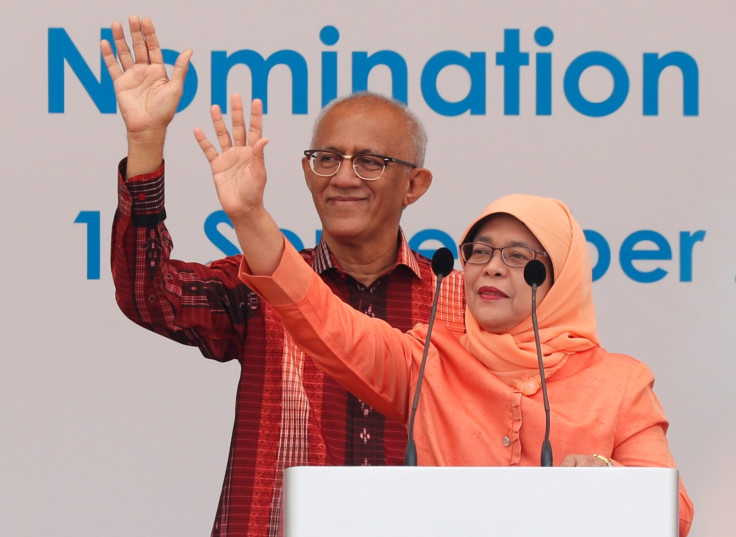 Halimah Yacob will be Singapore's first female president. She was declared the president-elect on Wednesday, 13 September, without a vote and will be sworn in on Thursday. The nominations of two other candidates were rejected due to strict eligibility criteria.
Halimah, who hails from the Muslim Malay minority, is a former speaker of parliament and a prominent establishment figure in Singapore. The 63-year-old will also be the first ethnic Malay president in 47 years.
"I am a president for everyone. Even though this is a reserved election, I am not a reserved president," Halimah said, rejecting concerns that she went on to become the figurative head of state without due democratic process. She was flanked by her husband Mohamed Abdullah Alhabshee and hundreds of cheering supporters.
"Although there is no election, my commitment to serve you remains the same, there is no diminution in my desire, passion, and commitment to serve you," she said.
When asked about the concerns from some corners over the entire process, Halimah said: "Whether there is an election or no election, my promise is to really serve everyone. I will serve with great vigour, with a lot of hard work, with the same passion and commitment as the last four decades."
Officials allowed only contenders from the ethnic Malay community to run for the presidency as part of their attempt to maintain communal harmony. Businessmen Salleh Marican and Farid Khan, did not meet the minimum requirements to contest the election. The 5.5 million population of Singapore is largely dominated by ethnic Chinese.
"We need every Singaporean to stand together shoulder to shoulder... We have not reached the peak yet. The best is yet to come. I ask that we focus on the similarities that we have and not on the differences," Halimah stressed in her concluding remarks.