Manchester United full back Patrice Evra has warned his teammates that Sir Alex Ferguson could hold a wholescale summer clear-out should they fail to secure the league championship in May.
United missed out on the title to their near-neighbours Manchester City last season, as Sergio Aguero struck late against Queens Park Rangers to pip Ferguson's team on goal difference.
But Robin van Persie helped exact revenge on Sunday, with his stoppage time free-kick extending United's advantage to six points at the top, a lead that Evra says the club must convert into a 20th league title - or suffer the consequences.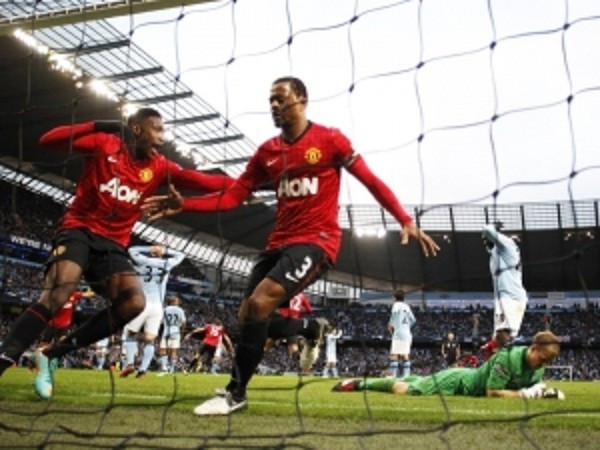 "I think Ferguson is going to sack everyone if we did that [blew the lead]," Evra said.
"I'm serious - it would not be funny, for the fans, for the players, for everyone.
"I remember what happened last year. We were eight points clear and in the end we lost the league, so a six-point lead means the league is not finished yet. There is a long way to go, but I really mean now we have to make sure we are ready for Sunderland on Saturday."
United ended City's two-year unbeaten record at the Etihad Stadium on Sunday with their fourth league win in a row, in a game which saw several fans arrested for a series of pitch invasions and racial chanting, while defender Rio Ferdinand was struck by a coin as he celebrated the winning goal.
Evra adds that while the victory was all-important in the quest for the title, the manner of the win should not go unnoticed.
"It was more important to win at City and give a sign out to them," Evra added. "We also broke their record at home which was really important. Psychologically, it was really important to win against City.
"It was a good win, we won again like the Man United way. We're very happy because we stuck to the plan. Last year we talked a lot about City before the game, but this year we just talked about us. It was about us - just to put some pressure on them and don't let them play and when we get the ball to make sure we score a goal.
"That's what we did in the first half. In the second half, they put a lot of pressure on us and they hit back. I thought it was similar to the Chelsea game in that way but in the end we won and that was the most important thing.
"I know people criticise us for conceding goals but the most important thing is to win games and that's what we are doing now. We have to defend better but in the end we showed the character and when you win like this. it's the Manchester United way."