Against the backdrop of uncertainty and discussions regarding the future of the continent's elite European competition, the 2014 Six Nations undoubtedly begins on 1 February under a foreboding cloud.
But at the launch of this year's championship, entering a 14th year in its six-team guise, there were few reminders of European rugby's burning question proving that the "envy of world rugby," as Bill Beaumont put it, still possesses the capacity to captivate.
As the captains and coaches of England, France, Ireland, Italy, Scotland and Wales assembled in Putney, the mental sparring begun. Media events such as these are co-ordinated with the precision of Christmas Day with the in-laws; awfully obligatory and deliberate with pleasantries throughout.
Wales coach Warren Gatland could easily have begun the verbal jousting. Coach of many of the players either whom he will lead seeking an historic third straight Six Nations crown, following last year's heroics against England with Rob Howley in charge, or directed with the British and Irish Lions in Australia. For now, he denies having any psychological edge.
"It [the tour] probably just reaffirmed that there isn't a lot of difference between each of the teams," Gatland maintained. "We come into this campaign, looked at the profile of our squad. I don't think there is any knowledge. Most of the squad got to see how privileged we are. One thing they did see is the shape the Wales boys are in physically."
Welsh rugby is of course in anything but fine fettle, given the dispute between the four regions and the WRU over the quartet's future, however the championship represents temporary respite and in captain Sam Warburton a spearhead towards a third title.
"People are talking about three in a row but we just taking things one game at a time," Warburton said. "I'd always rather be a favourite than an underdog. It's nice people are saying that but we pride ourselves on working hard but the players aren't going to be complacent."
Opening weekend opponents Italy are meanwhile suffering from an injury crisis heading into the championship, with seven front-line players out including Andrea Masi and Gonzalo Canale. After claiming two wins and doing anything but making up the numbers in 2013, the Azzuri face taking a backward step.
Coach Jacques Brunel believes opportunity knocks: "The injuries are a big loss for the team but it's an opportunity for the young players and there are not too many matches before playing in the next World Cup and it will be a good opportunity for them to have the chance to play. We need to trust them and show them they can do what they need to do."
Even with the return of Mirco Bergamasco, much of the responsibility of leading Italy will again fall at the feet of Sergio Parisse, who combative style was indicative of his side's campaign last year which included wins over France and Ireland. That responsibility begins against the reigning champions.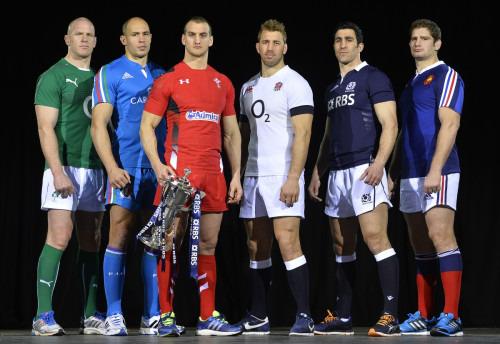 "There are no easy matches," Parisse warned, "but it's always better to start at home but obviously Wales is a tough beginning and playing at the Millennium Stadium is difficult. We don't want to focus on Wales too much though; it's no surprise to say that they're a good team. From our point of view we are trying to focus on us and be competitive and that is the most important thing."
If last year's opening weekend set the tone for any side it was France, who endured the first of three defeats in Rome. Despite the good humour and realism of coach Philippe Saint-Andre, the loss of Thierry Dusautoir, the field marshal of the French pack, is the single greatest absentee of the championship.
Pascal Pape takes his place as captain. "Obviously it's a responsibility but it's a responsibility that I have done in the past and it is not totally new to me," the 33 year old said. "I am very proud to be captain and I am looking forward to the results of our young team after a very hard season last year. We need to build up trust in ourselves and that will happen if we win."
Despite entering the Six Nations with a depleted squad, half of which whose caps won equates to a single figure, the omens are good for a French win. Every year during the professional era following a Lions tour, Le Bleu have emerged victorious though Saint-Andre believes it requires more than just an alignment of the stars.
"I hope you are right!" he replied when told of the trend. "The Lions, they finish very late in July so they play more games than normal although most teams play 14 games a year. For us it's not something new. We have three games at home and two games away so it's better fixtures for us.
"When you finish bottom of the Six Nations table it's difficult to say we are favourites for this trophy. England and Wales are the favourites. The French like to be one of the outsiders."
Opening weekend opponents England, in a match many believe will shape the championship from the outset, are another both bereft of first-choice players and forced to entrust youth just 20 months out from the World Cup. Among those is Luther Burrell, and coach Stuart Lancaster is willing to trust his burning potential.
"I'm okay on the timeline from the World Cup it's just that, in my own mind, you don't want to put in too many inexperienced players in at one time," he warned. "You only want to put a young player in if you think he's ready because for him really and his own development it's an important decision obviously."
Perhaps this year Chris Robshaw's role as captain is greater than ever. The skipper for 19 of England's last 22 tests, Robshaw was unveiled with non-existent fanfare last week and after playing himself fully into Lancaster's reckoning he must set about becoming a leader of men.
"I wouldn't say old man but yes I have a bit more experience than a lot of the guys coming in but there's a lot of guys in a similar type of situation," the Harlequins flanker said. "It's exciting when these young guys come in, you get used to it in club scenarios as well when these young 18/19-year-old guys come in and they are always pushing, they always want to learn, they have this X factor."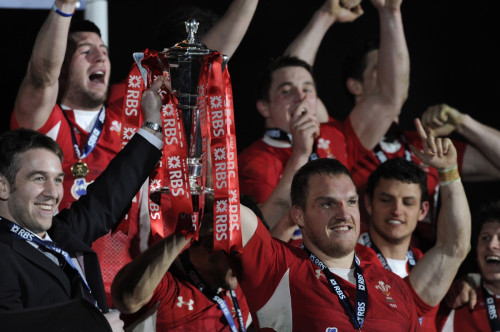 With the configuration of Scotland's fixtures suggesting avoiding the wooden spoon should be a priority, coach Scott Johnson, who makes way for Vern Cotter ahead of the summer, could be forgiven for cutting a downcast figure. On the contrary, his quips and wit, not least competitive spirit, hold no bounds.
"Much is made of it [the change] but I am still there," he gleamed. "I am still part of this organisation. This is a partnership going forward, it's not done insolation. I am as passionate about this team of players and getting it right as anyone and I left my ego at the door.
"First and foremost we're here to compete in this competition. We have parts of our game that means we can beat any team of any given day. What would represent a good tournament is if we can stay consistent and I don't think we're far from a couple of big scalps."
A morning and afternoon in front of the on looking media is no longer the greatest annual challenge faced by the Scottish captain Kelly Brown, who suffers from a lifelong stammer. Unwilling to allow the speech disorder to affect his rugby, Brown has impressing the incoming Cotter on his mind.
"For me every time I play I want to play as best as I can and the fact that Vern starts in the summer doesn't change that," Brown added. "So it's about making sure I play well and I know Scott and Vern have spoken and have made a plan from Scottish rugby so not too much will change. All I can influence is playing as well as I can play."
While any of the five aforementioned sides may triumph by mid-March, none will steal the limelight from Ireland's outgoing wizard Brian O'Driscoll, whose international career comes to a close in rather anticlimactic circumstances after being dropped for the third Lions test.
The 35 year old's 15-year international career is unlikely to end with a Six Nations title with coach Joe Schmidt, despite the autumn's near-miss against New Zealand, tempering expectations.
Schmidt recalled: "I think the process was reasonably short for the players we touched on it briefly and we had a couple of days before Christmas where we looked at a few things from the autumn series and try and do a bit of repairing of things and also took a bit of confidence out of the good things that we did. It was a recurring nightmare for me."
Just defending Ireland's home record at the Aviva Stadium won't do for captain Paul O'Connell, whose international career in itself is expected to come to a close after next year's World Cup but his appetite for the Six Nations means he is unwilling to give up such a privileged position.
"I don't miss any pitch time or anything like that, I am not at that stage yet, I'm on the pitch as much as the other guys it's just that I do different things in the gym to the other guys," he said. "The other guys are heavy squatting; I don't do a lot of that kind of stuff. So there isn't massive difference, just tweaks, nothing that guys get annoyed about, nothing that guys have got annoyed about yet anyway."
Verbal sparring concluded, nine days now separate these six sides from the start of this year's championship; a healthy removal from off-the-field political wars. As ever, the on field ones and entirely more absorbing.