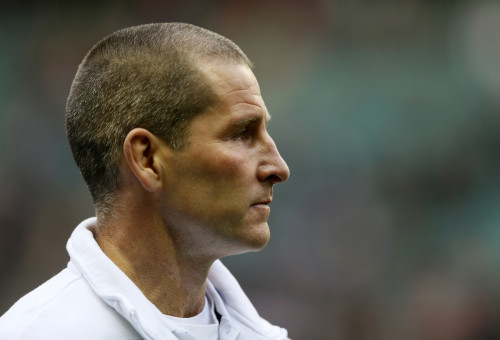 England coach Stuart Lancaster believes his side's finishing must improve if they are to claim the Six Nations championship despite a thumping win over Scotland at Murrayfield.
Luther Burrell and Mike Brown's tries either side of half-time was a paltry return for an England side who dominated possession for long periods as Scotland toiled in the Edinburgh rain.
Scott Johnson labelled the defeat for Scotland as "flattering" such was England's dominance both numerically and with the ball and Lancaster was typically playing the role of perfectionist at full time.
"We definitely have regrets on the points that we left out there," said Lancaster. "We went in half time 13-0 and in the second half we enjoyed some really good territory but we kept getting penalties.
"That said I thought we played some really good stuff in difficult conditions. Scotland had defend really well and had to put people in the bin to stop us scoring."
The win at Scotland comes after last weekend's loss defeat to France in Paris and England next face Ireland, who beat Wales to secure a second win of the Championship, in a fortnight.
The meeting at Twickenham is another pivotal game in deciding the destination of the championship in 2014 and Lancaster is wary of Ireland's improvement under Joe Schmidt.
"We always felt we were in it even thought we lost last week," maintained Lancaster. "It sets us for an important game against Ireland who have won two from two now who played really well against Wales. But we're confident so it will be a key game.
"I only saw parts of the Ireland game but you saw parts of Munster, Leinster and Ulster and it's a very good side collectively. They're coached very well now."