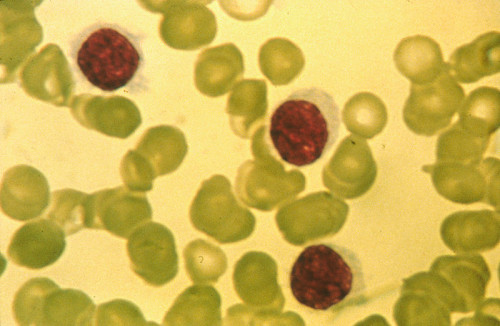 A skin cancer drug has been used to completely cure a rare form of leukaemia in a patient in just days, doctors confirmed.
Scientists from the University of Leicester, publishing their findings in the New England Journal of Medicine, show how a patient suffering from Hairy Cell Leukaemia had a complete clinical recovery after taking Vemurafenib, a drug approved for treatment of advanced melanomas.
Hairy Cell Leukaemia is a rare type of blood cancer that develops slowly, often over months or years. It mostly occurs in people aged between 40 and 60 and only around 200 cases are reported in the UK every year.
Vemurafenib is a BRAF inhibitor. BRAF is a protein involved in cell growth. The drug, which can be taken orally, cleared the malignant cells from the patient's blood within days.
Salvador Macip, from the University of Leicester's Department of Biochemistry, said: "A genetic study of the patient's blood cells allowed us to identify a mutation in the BRAF gene that is commonly found in skin cancers.
"This knowledge enabled us to combat the cancer cells with Vemurafenib, which has had proven success as a BRAF inhibitor in melanomas, and showed similar success for this patient who had exhausted all other treatment options, which is fantastic.
"What was most surprising was that the drug did not work in the way we expected it to. Whilst it successfully blocked BRAF and killed the cancerous cells, there was no ability to block the downstream cascade of signals. Therefore more research is required to better understand how this drug works to ensure we are able to use it in the best possible way."
"This is one of the first clinical examples of this treatment for Hairy Cell Leukaemia and we are the first researchers to do a biochemical study of the samples and discover that the drug does not do what it's supposed to be doing."
The authors also note that drugs currently used to target specific cancers can be applied to other diseases that share genetic backgrounds.
Professor Martin Dyer, also from the University of Leicester, said this case shows that precision medicine, where scientists collaborate with doctors to deliver personalised therapies, are essential.
"We drew blood from the patient on a daily basis which was analysed back in the lab to monitor the effects of the drug," he said. "The more understanding we have of how treatments such as Vemurafenib kill cancer cells, the more effective and targeted treatments can be."