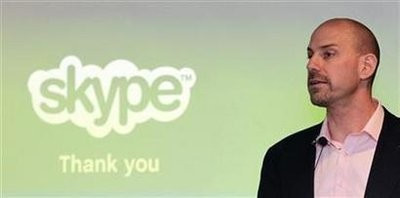 After a disastrous performance last week, internet call service provider Skype has this week found itself once again on the wrong end of user sentiment as a new "crapware" update leaves its user's fuming.
The "crapware" came as a part of an update intended for Skype's Windows client. The problem stemmed from the fact that it installed certain EasyBits Go software onto the user's computer without their consent or knowledge.
Easybits is a software developer that makes game apps for Skype and numerous other companies -- including Dell, HP and Acer.
"Crapware" refers to software that is unwanted -- it has nothing to do with whether it works or not. It's because the software was installed regardless of the user's wish to have it, that the new Skype update has been listed in the category.
Once installed, if the slew of negative blog posts and Twitter tweets are true, an additional problem is that the new software is "difficult to uninstall".
Since the problem was reported Skype's Director of PR for the Americas posted a statement confirming the problem and apologising to users on the company's blog.
"It has come to our attention that concerns have been expressed from Skype users over the update delivered to Skype Extras for Windows by Easybits software."
The post went on to define the problem, "The software is provided by our partner EasyBits, and is part of the Skype Extras Manager. The Extras Manager has been included in Windows releases of our software since 2006.
"This latest update from EasyBits included elements of their desktop games organizer in error, but it neither installs nor uninstalls correctly."
Since the post was published the new update has been disabled. The company has also promised that it is working alongside EasyBits to make sure the problem doesn't reoccur.
"Skype works closely with its partners to ensure that our users receive the best possible Skype experience and is working with EasyBits to ensure this issue does not happen again."
The is as yet no official word on when the fixed update will be released.