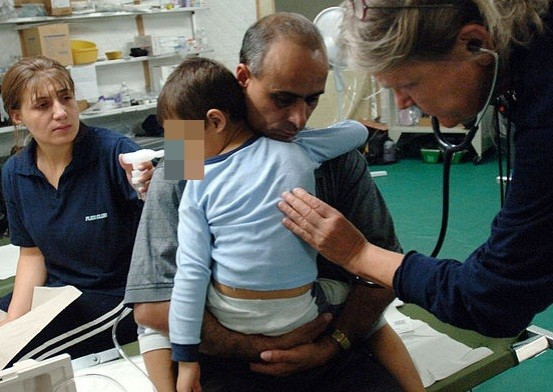 The 2007 smoking ban has led to a significant drop in the number of children being admitted to hospital for asthma.
Over the last five years, there has been a 12.3 percent drop in the number of child asthma cases, researchers at Imperial College London found.
They looked at NHS statistics at child asthma cases recorded in the years that followed the government's smoking ban.
In the first three years, there were 6,802 fewer hospital admissions than prior to the ban. They also found asthma admissions continued to fall in the years that followed, suggesting benefits were sustained over time.
Study leader Christopher Millett, from the School of Public Health at Imperial College London, said: "There is already evidence that eliminating smoking from public places has resulted in substantial population health benefits in England, and this study shows that those benefits extend to reducing hospital admissions for childhood asthma.
"Previous studies have also suggested that the smoke-free law changed people's attitudes about exposing others to second-hand smoke and led more people to abstain from smoking voluntarily at home and in cars.
"We think that exposing children to less second-hand smoke in these settings probably played in important role in reducing asthma attacks.
"The findings are good news for England, and they should encourage countries where public smoking is permitted to consider introducing similar legislation."
Over 1,000 deaths from asthma in 2009
Around one in 11 children in the UK are affected by asthma, amounting to 1.1 million children. In total, 5.4 million people in the UK are currently receiving treatment for asthma.
In 2009, there were 1,131 deaths from asthma. Twelve of these cases were children under the age of 14.
The study, published in the journal Pediatrics, found that before the smoking ban, hospital admissions for children suffering a severe attack were increasing by 2.2 per cent per year.
It peaked in 2006/07 when 26,969 children were admitted to hospital for asthma. A year later, the trend had reversed, with lower admission rates among all ages.
Emily Humphreys, head of policy and public affairs at Asthma UK, said: "It's great to see growing evidence of the positive impact of smoke-free legislation. This is something we campaigned for, so it is particularly encouraging that there has been a fall in children's hospital admissions for asthma since its introduction.
"We have long known that smoking and second hand smoke are harmful - they not only trigger asthma attacks which put children in hospital but can even cause them to develop the condition.
"We've seen the benefits of reducing second-hand smoke exposure; now we need to do more to prevent children and young people from taking up smoking by introducing plain packaging for tobacco."