Heathrow Airport Cancels 600 Flights in Weekend of Snow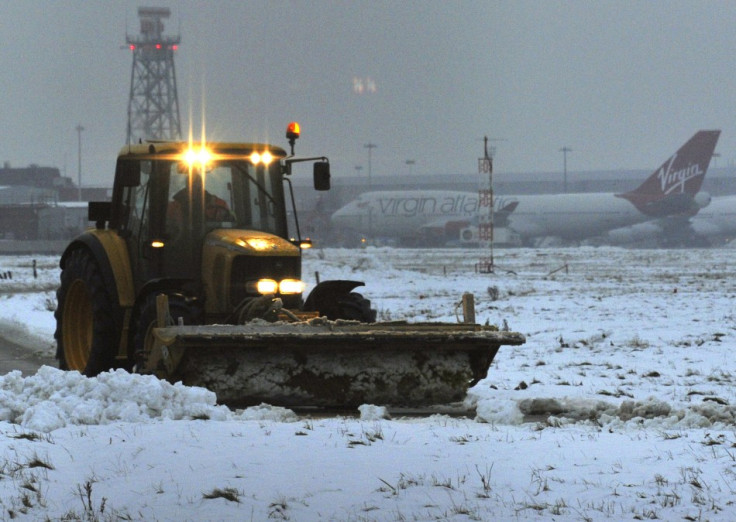 Half the flights out of Heathrow were cancelled because of heavy snow over the weekend - despite promises by airport bosses they were on top of the weather.
Confusion and frustration prevailed at the airport with passengers struggling to make alternative plans.
BAA angered travellers after it cancelled 600 flights despite only three inches of snowfall. Up to 8,000 travellers had to make to make last-minute changes to their schedules, the Telegraph reported.
The company defended its decision, saying the snow plans had worked much better than in previous years.
Stansted airport in Essex and those in Luton, Birmingham and Leeds Bradford were all busier with flight cancellations, delays and disruptions. Almost 400 transatlantic passengers were left stranded overnight in Ireland after six London-bound flights were diverted.
British Airways said it would allow passengers scheduled to fly on Sunday to re-book for journeys between Monday and Thursday.
The Telegraph report added that despite record low temperatures, flights took off as normal in other airports across Europe. In Germany, for example, no airport had to shut even though Munich temperatures plunged to -27C. In Stockholm, only six of 350 flights were cancelled. Copenhagen had four inches of snow but no disruptions.
The BBC reported the UK Met office had issued warnings for ice after disruptions to road, rail and air travel following up to 6 inches of snow in some areas.
BBC forecaster Holly Green said ice was likely to be a hazard, particularly across much of England and south-eastern parts of Wales, as rain fell on ice and re-froze. She added there was a risk of further small accumulations of snow in eastern parts of England.
© Copyright IBTimes 2023. All rights reserved.