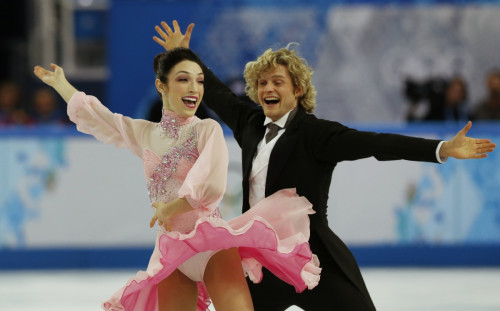 Ice dancers Meryl Davis and Charlie White have given the United States the lead for winning its first Olympic gold in ice dancing.
The two-time world champions set a new world record score in the short dance at the Sochi 2014 Winter Olympic Games being held in Russia.
Davis and White skated a foxtrot and quickstep to My Fair Lady to move ahead of reigning Olympic champions Tessa Virtue and Scott Moir of Canada by 2.56 points at the Iceberg Skating Palace.
Moving closer to giving the United States a first Olympic ice dancing gold, Davis, 27, and White, 26, scored 78.89 points beating the Canadian partners, who achieved 76.33 for their skate to Dream a Little Dream, Muskrat Ramble and Heaven.
Russia's Elena Ilinykh and Nikita Katsalapov scored a personal best 73.04 for their skate to "Bei mir bist du schoen" and "Sixteen Tons", to put them third ahead of France's Nathalie Pechalat and Fabian Bourzat, 72.75.
"I told Charlie that ... I felt like I was in a dream. It was so surreal," Davis told the reporters after their performance that left the crowd cheery.
"It felt awesome. When we were going out, we said, 'Let's do it for each other.' We're letting it flow," White added, Reuters reported.
Davis's sparkling pink dress and White's black suit tails added to the beauty of their nimble performance.
Davis and White are only one routine away from becoming the first American and the fourth non-Russian couple to win the Olympic ice dance title.
Take a look at them skating in the pictures below.