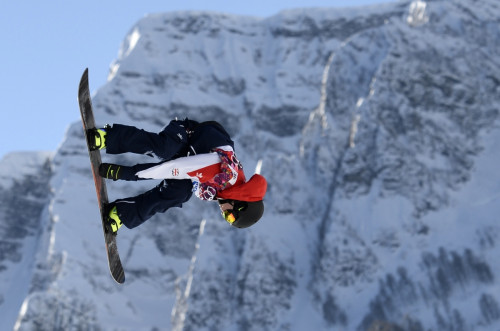 Jamie Nicholls and Billy Morgan failed to make history by becoming Great Britain's first ever winter Olympic medallists on snow after finishing outside the podium positions in the inaugural men's slopestyle final in Sochi.
Nicholls was in the silver medal position after the first run but slipped to an agonising sixth, while world No.2 Morgan failed to make an impact after falling on both runs and eventually finished in 10th.
United States rider Sage Kotsenburg claimed gold after cementing his lead from the first run, Norway's Staale Sandbech won silver while Canada's Mark McMorris finished with bronze as the first medals of the Games were awarded.
Canadian duo Sebastein Toutant and Maxence Parrot both failed to impress to further emphasise the British disappointment.
While Morgan was unable to put together a clean run, 20 year old Nicholls had for so long look likely to claim Britain's first ever Olympic medal on snow but Sandbach, McMorris and Kotsenburg's second runs saw them leapfrog the Halifax born rider.
Though Britain have missed out on making the perfect start to the Games, the performance of both Nicholles and Morgan has laid down a significant marker ahead of the remainder of the Games.
Team GB's biggest team to travel to an Olympics since 1988 still have strong medal hopes with Shelley Rudman going in the women's skeleton and Elise Christie in the short track speed skating.