A huge monument to socialism in Bulgaria been painted lurid pink to say sorry for the crushing of the Prague Spring by Soviet forces in 1968.
Graffiti artists daubed paint over a relief in the capital city of Sofia, totally transforming the slate-grey bronze tribute to the Red Army.
Residents woke up to find the slogan "Bulgaria apologises" written in Czech and Bulgarian beneath the newly pink heroes of socialism.
It was done overnight by unknown artists or pranksters.
Sections of Bulgarian society feel guilty about the country's role in putting down the uprising against Moscow's rule in Prague in 1968.
Bulgaria was the first country to call for the Red Army to invade Czechovakia and use force to put down nascent democratic reforms in the country, during which 108 people were killed and 500 injured.
This is not the first time that Sofia's huge monument to communism has been vandalised to humourous effect. In 2011, the bronze figures were turned in to Father Christmas and American action heroes - including Wonder Woman.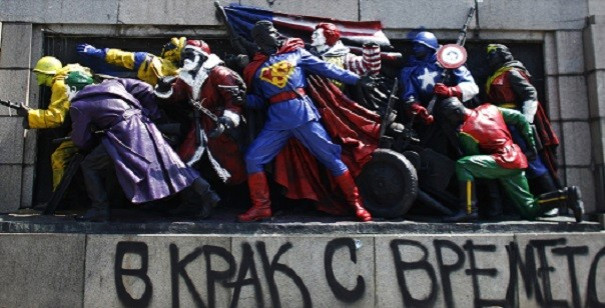 The Soviet Army monument stands 36m high and towers over the heart of Sofia. The relief of soldiers in dynamic poses is at the foot of the grey column. At the top of the structure is a statue of a group of workers hailing victory for socialism.