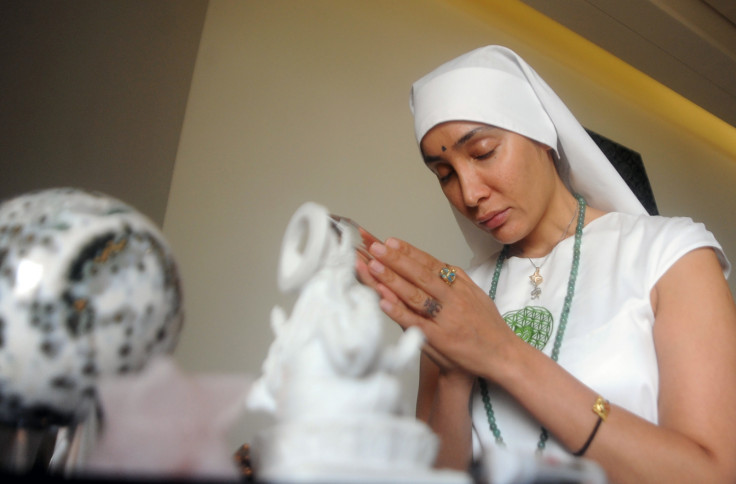 British Asian model and actress Sofia Hayat has left her entertainment career and stunned fans with her transformation into a nun. Now known as Gaia Mother Sofia, the former model has displayed her breast implants before the press and has apologised to everyone who found her beautiful with makeup and implants and claimed she has "no physical desires left" in her body.
"This (silicon implants) was a fake reality that I was putting on display then. I don't live my life physically for other people," the former model, who was well known for her seductive pictures on social media, said at a press meet where she displayed her breast implants that were removed three weeks ago.
"I apologize to my fans and anybody who found me beautiful with makeup and implants. Three weeks ago, I had my implants removed," she said (via The Hindustan Times). Besides apologising for her "fake appearance" all through the years, she also asked the media not to objectify woman.
"Media projects fake images of women with implants and men with steroid shots. And then, everyone wants to have similar bodies. What they don't realise is that all of that is fake," Hayat said adding she will never go back to her old self ever again. "Those who were looking at me from a physical point of view, I have to tell them to stop objectifying women. Those who want the physical Sofia back will never get it ever again."
The former Bigg Boss contestant, who was known for her flourishing modelling career in India and the UK, has been in the news in the past week after her transformation into a nun. She also says she has adopted celibacy and has no desire left for sex.
"I had an active sex life. I had boyfriends. The change happened in July 2015. I asked myself, 'Why am I not feeling anymore desires?' And that is when I took this path and discovered the real me. I don't have any more physical desires left in my body."
In 2012, the 31-year-old former model was named the new 'Curvy Icon' by Vogue Italia. She also made it to the FHM's list of sexiest women in the world and ranked 81 in September 2013. But she claims that after being awakened spiritually, she has become the 'Holy Mother'.
"I am the incarnation of Quan Yin, Female Christ, Mary and Goddess Isis. I am the Mother and daughter of God of the Holy Trinity. I want to spread the truth of who we are and what is our purpose in life is. It is time to wake up and live the truth," she captioned one of her Instagram posts.
Watch the video here.