Solar Impulse 2 has taken to the skies again, as it continues in its attempt to be the first solar-powered aircraft to circumnavigate the world. Embarking its 12th stage of its journey on Saturday (21 May), the plane took off from Tulsa, Oklahoma at 4.22am local time (9.22am GMT), bound for its destination of Dayton, Ohio.
The 1,100km (683.5m) journey should take pilot Andre Borschberg about 18 hours to complete, which is a relatively short stint in comparison to the attempt's previous stages.
The BBC reports, Solar Impulse 2 will then fly to New York before gearing up to fly across the Atlantic Ocean. The circumnavigation will be complete when the aircraft lands in Abu Dhabi, UAE, where it originally took off from on 9 March 2015.
As well as seeking to break records and create aviation milestones, the attempt of the project is to also demonstrate the capability of clean technologies and alternatives to current fuel sources.
The plane is reportedly fuelled by energy from the sun, which is captured and harnessed through 17,000 photovoltaic cells, which power the craft's propellers and charge the plane's batteries for night time flight.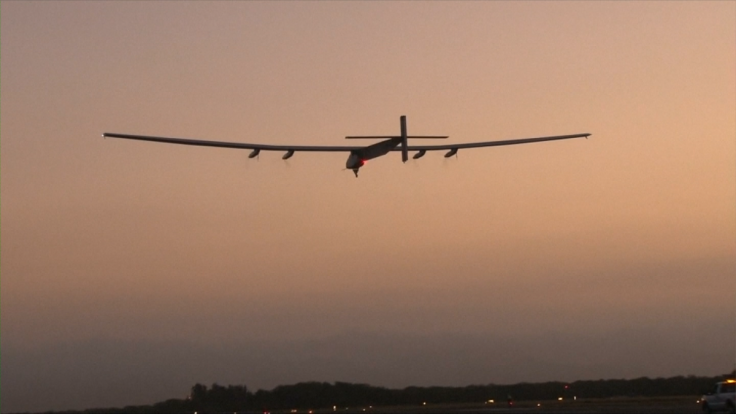 Borschberg has been joined by fellow Swiss pilot, Bertrand Piccard, who also takes over controls during each leg of the first round-the-world solar-powered flight.
Pilot Borschberg was the pilot for the Japan-to-Hawaii trip over the Pacific in July 2015, during which he remained airborne for nearly 118 hours, breaking the previous 76-hour world duration record for a non-stop, solo flight set in 2006 by the late American adventurer Steve Fossett. It also set new duration and distance records for solar-powered flight.
The craft's wingspan is wider than a 747 jumbo jet's but it weighs just 2.3 tonnes. Low flight speed means mission legs can take several days and nights of continuous flight, while the pilot is permitted to only take power naps of up to 20 minutes at a time. The cockpit is reportedly only a fraction bigger than a public telephone box.