Over 50 human rights campaigners, activists and asylum seekers held a protest at the US Consulate-General building in Hong Kong on Sunday (25 September) to demand a presidential pardon for exiled NSA whistleblower Edward Snowden. The rally, organised by protest group Socialist Action alongside the League of Social Democrats and the Refugee Union, included a number of families who helped Snowden hide from authorities for roughly two weeks after he fled the US with a trove of classified NSA material.
It was recently disclosed how the former intelligence contractor – who currently resides in Russia after being given temporary asylum – lived in the homes of numerous asylum seekers in Hong Kong while his legal team and WikiLeaks organised safe passage out of the country.
"It turned out that it was not the Hong Kong government that helped him. It was actually these very oppressed people," Sally Tang Mei-ching, chairwoman of Socialist Action, told the Hong Kong Free Press.
"By using this event – even Snowden, someone who is so well-known, supports asylum seekers – we hope to put pressure on the government and tell it that we support Hong Kong's refugees and hope that Hong Kong people will support the refugees and pay attention to their situation. The media very rarely cover issues faced by refugees."
Prior to the protest, Peter Maina, the Refugee Union secretary general, told the South China Morning Post the rally was being held to "show appreciation for Snowden's expressions of solidarity" with refugees in Hong Kong. "We are motivated by the belief that ordinary people around the world have benefited from Snowden's disclosures," he said.
Indeed, in an exclusive interview with the National Post last month, Snowden said he was extremely thankful for the help during his time on-the-run.
"Imagine the world's most wanted dissident is brought to your door. Would you open it? They didn't even hesitate," he said. "I'll always be grateful for that. If not for their compassion, my story could have ended differently. They taught me no matter who you are, no matter what you have, sometimes a little courage can change the course of history."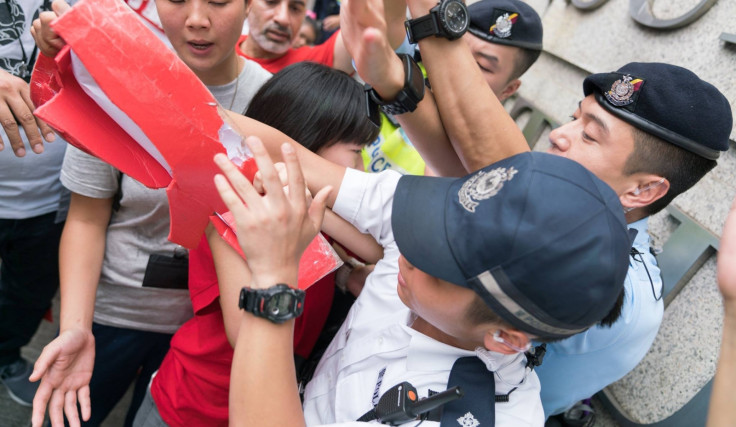 Throughout September, a number of human rights organisations including the American Civil Liberties Union and Amnesty International have called for Snowden to be granted a pardon by the Obama Administration before the next US election takes place. In a number of media appearances, the infamous former NSA analyst said he believes that in time he will be forgiven.
"Once the officials, who felt like they had to protect the programmes, their positions, their careers, have left government and we start looking at things from a more historical perspective, it will be pretty clear that this war on whistleblowers does not serve the interests of the United States; rather it harms them," he said.