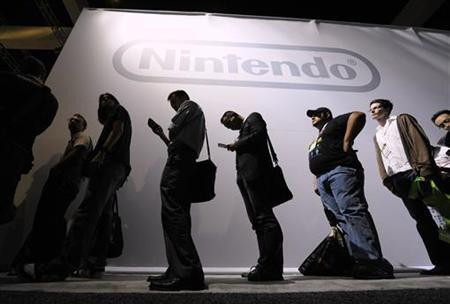 Since Sony's PlayStation Network outage, numerous games companies have fallen victim to successful cyber attacks, most recently Nintendo and Epic Games have joined the growing cyber-victims club, leading to fresh speculation about which company will be targeted next.
Nintendo
Nintendo and Epic Games are the two most recent games developers to have fallen victim to hackers.
The cyber attack against Nintendo was revealed when the company posted a warning on its U.K. website telling its users of a possible future phishing attack.
In the statement, while reassuring its customers that no financial data had been compromised as a result of the attack, it does warn that certain users contact details and usernames may have been made vulnerable.
"We have learnt of a possible phishing threat to users of the European Nintendo website which we are currently investigating. The protection of our customers is our utmost priority and so we have taken the precaution of immediately shutting down some parts of this website until further notice.
"We would like to reassure you that we do not hold our customer's bank, credit card or address details on the European Nintendo website and so this data is not at risk.
"Phishing is when someone attempts to find out your personal information, such as usernames and passwords, by pretending to be a trustworthy person or company in an electronic communication such as an email or via a website."
Epic Games
Like all but the initial PSN attack on Sony, the recent hacking attempt on Epic Games targeted the company's website.
The website's users could take comfort in the fact that Epic itself does not hold user's financial information meaning that their credit information was safe.
Like Nintendo, the attack focused on obtaining user information. In its subsequent statement Epic warned that the usernames and contact information of its website's users had, like Nintendo, been compromised.
The company statement to its customers read:
"Our Epic Games web sites and forums were recently hacked... After some downtime, they're back up and running now.
"The hackers may have obtained the email addresses and encrypted passwords of forum users. Plaintext passwords weren't revealed, but it's possible that those passwords could be obtained by a brute-force attack on the encrypted passwords. Therefore, we have reset all passwords. Your new password at the bottom of this message.
"The Unreal Developer Network (UDN) hasn't been compromised. Thankfully, none of our web sites ask for, or store, credit card information or other financial data.
"We're sorry for the inconvenience, and appreciate everyone's patience as we wrestle our servers back under control."
Codemasters
Veteran U.K. based games developer Codemasters confirmed late last week that its network had been hacked earlier this month.
In an open letter to its customers the company admitted that it's website had fallen victim to a successful cyber attack.
Like Nintendo and Epic the company clarified that while no credit or bank information was lost in the attack, it had lost several users encrypted passwords, Xbox Live Gamertags, email addresses and usernames.
Square Enix

Japanese games developer Square Enix, who are responsible for creating the Final Fantasy and Kingdom of Hearts franchises, were targeted by as yet unknown hackers mid-way through last month.
Like Nintendo, Epic and Codemasters the cyber attack also reportedly focused on the company's website.
In a statement released after the attack the Square Enix confirmed that the hackers had successfully stolen as many as 25,000 customer's email addresses, as well as 350 c.v.'s of individuals applying for work at the company's Canadian office.
Sony
Thus far Sony are the only company to have reported a major cyber security breach that could have compromised its users credit information.
The initial attack, which infamously left the PlayStation customers without the use of the PlayStation network for nearly two months, happen in mid-April this year.
The attack compromised the data of up to 100 million PSN user's accounts including billing information.
Since then the group has suffered multiple attacks from the hacker group LulzSec, which has used Sony's handling of the PSN's outage and ongoing cyber weakness as a justification for its actions.

Future attacks
While the initial attack on Sony may be seen as different in character, the recent barrage from LulzSec is debatedly, the same in kind as the subsequent attacks inflicted on Codemasters, Square Enix, Nintendo and Epic.
These attacks may seem insignificant when compared to the security breaches recently reported by the International Monetary Fund and Google, they are troubling in that they demonstrate a new focused approach by hackers.
Despite the fact that the recent attacks on the games industry have not granted the hackers access to the website's users credit information it has presented them with a somewhat lucrative pile of information.
Hackers can use the information to mount a second more focused attack on the users intended to get their bank account information, or even sell it to numerous research companies or survey groups -- in addition to some less reputable sources.
The recent slew of attacks on games developers could be seen as analogous to a shark that has smelt blood. If looked at in this manner, then as long as companies online security remains weak and hackers can get access to this valuable information, such attacks will inevitably continue -- the only question that remains is, who's next?