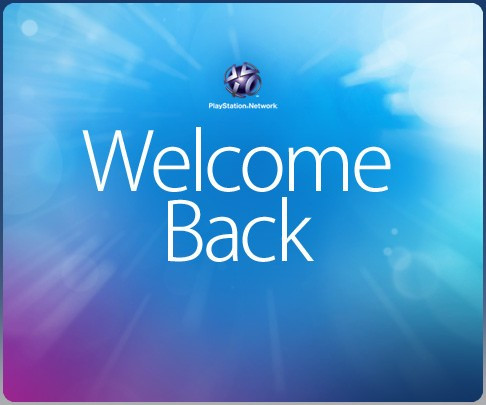 The "Welcome Back" free gifts Sony offered consumers as recompense for the near two month PSN outage is now available for all PlayStation 3 and PSP customers.
According to a blog post from Sony's Sr. Director of the PlayStation Network Susan Panico, the content became available late Friday 3 June.
In the post Panico also took the chance to once again reiterate an apology to Sony customers affected by the PSN's outage.
"Today, we're excited to launch the Welcome Back program to thank you for your loyalty, and below, we've got what you need in order to get access to the included content.
"Thanks again for your patience and understanding as we restored the PlayStation Network and Qriocity services - your support has meant a lot to us and is greatly appreciated."
The free gifts will allow users to download two free titles for both the PSP and PlayStation 3. The gifts are available through a separate "Welcome Back" section of the PlayStation Store.
The post also contained a warning telling users that the high amount of traffic attempting to take advantage of the free gifts meant that certain users may have some difficulty logging in. "Due to high traffic on PlayStation Store, you may encounter error messages or issues. We advise you to check back a little later and try again."
As well as the free gifts Sony has also offered its customers a slew of other peace-offerings. These include, access to a free 12 month data protection service and a free subscription to its PlayStation Plus service.
It is worth noting that any of the free content available to Plus customers will only be active for the duration of the user's subscription. This means that those who choose not to pay for PlayStation Plus after the free period runs out will lose any of the service's exclusive offers. Additionally, the free "Welcome Back" games will only be available for 30 days, after that the section will be removed and users will once again have to pay for the titles if they didn't already download them.
The PSN crisis began after an as yet unidentified group of hackers managed to bypass the company's online security. The attack reportedly left as many as 100 million PSN account holders personal and billing information compromised. Sony subsequently shut the network down, leaving users without the service for nearly two months.
Since the attack the hacking group LulzSec has claimed to have successfully mounted a similar second attack on one of Sony's websites.
UPDATE: LulzSec has reportedly hacked Nintendo's website as well.