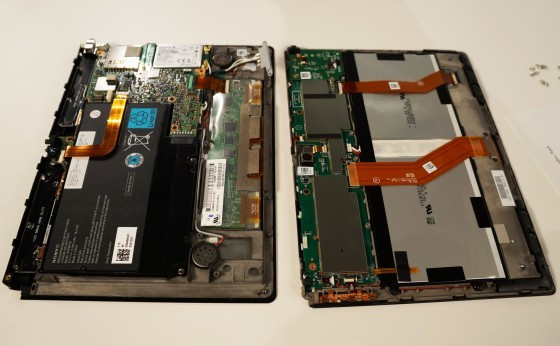 Sony's Xperia Tablet S that has been announced at the IFA trade show in Berlin has received the teardown treatment by one of the company's own engineers.
Sony engineer Takuya Inaba has torn open the new Xperia tablet, according to the official Sony blog post. The blog claims that the Xperia Tablet S seems to be thinner than its predecessor, the Xperia Tablet. The screen measures 9.4in with a resolution of 1280 x 800 pixels. The bottom edge of the tablet comes with a multi-port connector that is used to connect to the AC adapter or to a computer. In addition, the bottom edge comes with two speakers. The teardown reveals that the speakers in the newest tablet have been repositioned when compared to the previous device. It has been shifted from the side to the bottom which helps in preventing the hands from covering the speakers.
The first step of the teardown treatment includes removal of the top plastic piece that is held using seven hooks. The post claims that it is a challenging task to remove the back panel that holds together ten screws. The adhesive tape has to be broken which needs some force to fully remove it.
"Interestingly, the unique "wrap around" design is an optical illusion created with the two halves," claims the blog. The teardown, when noticed closely, shows up two main connectors - multi-port connector and LCD connector. It shows 16GB of onboard storage (32GB and 64GB models available) and the SD card slot with an additional memory space of 32GB.
According to the blog, removal of battery was fairly easy. "Taking off the heat sensor and disconnecting the wires and it easily detached." In terms of battery, a significant change is noticed in regard to its shape and size. The battery of the new tablet has a larger surface space.
"Taking off the motherboard, not only are there (4) EMI shields but to the right you see a carbon fibre material (right) that also serves as a cooling system which dissipates the heat. There is also a ribbon that serves as a temperature sensor which monitors the battery temperature when in use or charging," explains the blog.
The screen measuring 9.4in with a resolution of 1280 x 800 pixels comes with an Anti-Smudge coating which reduces fingerprints. You can check out a video of the teardown of the Xperia Tablet S on the Sony blog.