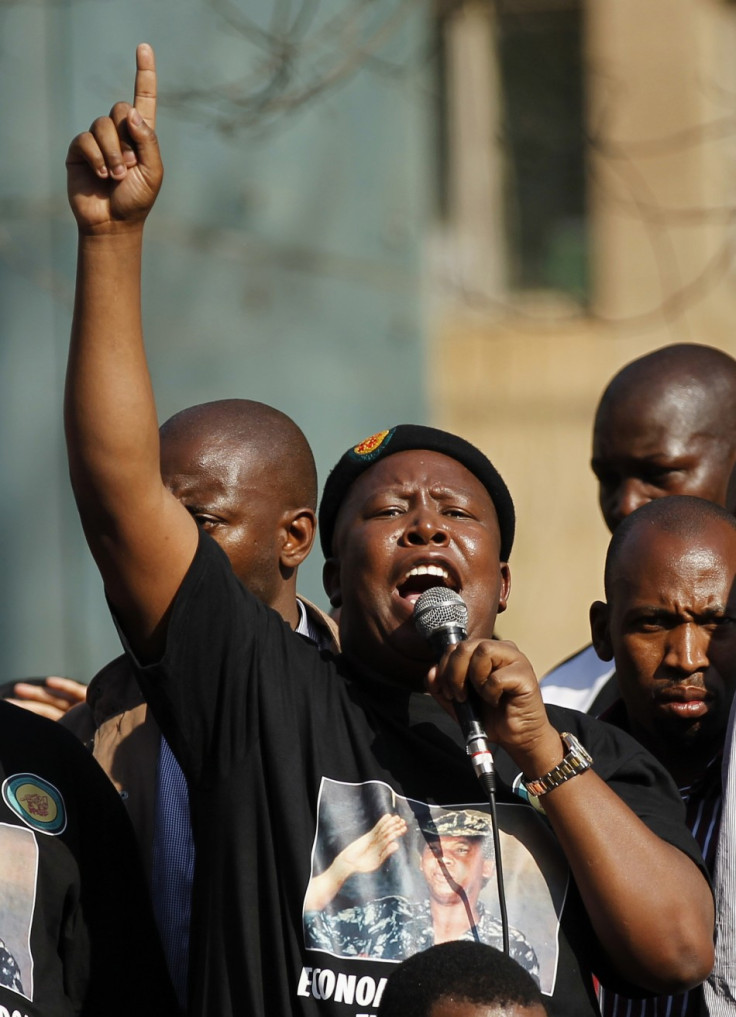 ANC Youth Leader Julius Malema has been found guilty of bringing South Africa's ruling party into disrepute.
Malema has as a consequence been sacked from his Youth Leader's position and suspended from the ANC for at least five years.
He first emerged as a close ally of South Africa President Jacob Zuma, but his controversial statements and claims have seen the two men become more and more distant, and the young politician soon became one of Zuma's fiercest critics.
Derek Hanekom, who led the disciplinary hearing which saw Malema being suspended, said "Ill-discipline is not a cure for frustration," before adding "Such disobedience undermined the effectiveness of the ANC."
Malema was suspended after he called for regime change in Botswana, a position that was judged at odds with the party and government policy.
The politician now has 14 days to appeal against the ANC sentence, but must leave his position as a Youth Leader immediately as he had already been suspended following a controversial statement he has made in Zimbabwe in 2010.
Youth League spokesman Floyd Shivambu was also suspended for three years.
Tensions between Zuma and Malema emerged following a series of incidents and the former Youth leader called for the President to step down from his party leader position.
He also criticised Zuma for not doing enough to support the millions of South Africans who have helped him come to power but still live in poverty.
He had also previously been suspended for publicly pledging the ANC support of Zimbabwe President Robert Mugabe at a time where Zuma was trying to mediate between Mugabe's Zanu PF and the MDC opposition led by Morgan Tsvangirai.
He had also been investigated by an anti-corruption unit but denied any wrongdoing.
His critics of the president came in sharp contrast to his earlier stance as he once said he would "Kill for Zuma."
Malema also remains a controversial figure in South Africa and was previously found guilty of using hate speech after he sang an anti-apartheid song Shoot the Boer (white farmer), which has since been banned.
The ANC sentence has surprised many analysts who expected the disciplinary measures to be lighter.
The ANC decision comes just a few weeks after Malema forwarded a list of demands to the South African government which he said were "genuine and should be acceded to with immediate effect, because we cannot afford to wait any longer."
He called for the nationalisation of mines, said the government should own 60% of the country's Mines and demanded 'compensation of Mining communities that continue to suffer diseases and infections as a result of Mining and minerals' extraction, particularly the asbestos communities'.
He also wanted the equitable redistribution of land without compensations and also said that "All productive land must be nationalized, and provided on lease-basis as opposed to freehold to those interested in utilizing the land in line with our national priorities;
"Urgent enactment of a policy framework and programme which will focus on the food economy and empowerment of communities to produce food for themselves and food for their immediate schools, hospitals, prisons and other public and private institutions that consume food;
"The South African government and all State institutions should by 2014 be buying a minimum of 40% of food for hospitals, schools and prisons from small scale farmers and agricultural practitioners."
The move angered the government and its supporters and critics of Melema who accused the former Youth Leader of being opportunistic by marketing himself as the defender of the poor and unemployed to fulfil his political ambitions.