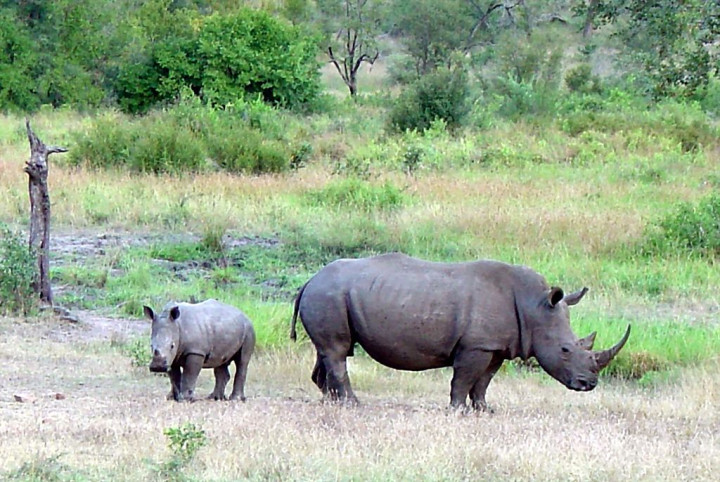 A police constable and eight other suspects have been caught trying to poach rhinoceros horns from a private game farm in Rakin's Pass, Limpopo, the northern-most province of South Africa.
The police officer is believed to be connected to the Crime Prevention Unit at Hillbrow police station in Gauteng, according to South African news website SA News.
On Sunday morning, a Zimbabwean national and two Mozambicans were caught inside the farm and arrested. Two others, a local and a Botswanan woman were arrested in their vehicle outside the farm, after dropping the poachers off.
Three more South African suspects were arrested at a meeting point in Vaalwater, where they waited for the poachers to arrive with the rhino horns in a getaway vehicle.
Two cars, a Toyota Tazz and a Nissan Hardbody were seized, along with a silencer, an axe and a .375 hunting rifle with its serial number removed.
All the suspects are facing charges of attempted rhino poaching and possession of unlicensed firearm. They are due to appear at Modimolle Magistrates' court.
Hot pursuit
National Police Commissioner Riah Phiyega recently unveiled new plans to help South African National Park officials catch poachers suspected of killing and dehorning rhinos in the Kruger National Park.
South African Police Service head of communications Lieutenant General Solomon Makgale told defenceWeb: "Once suspects cross a border, we call our counterparts in the country the suspects crossed into to accompany us. Once arrested the suspects will be left in the country where the arrest was made while we await the outcome of an extradition application.
"The hot pursuit across borders referred to by General Phiyega is not only in respect of rhino poaching but other matters as well.
"The police have many cases of stock theft, motor vehicle theft, human trafficking and drugs as some examples of transnational crime. A special cross border unit of SAPS detectives deals with these matters."
So far this year, 618 rhinos have been killed in South Africa, with 400 deaths at the Kruger National Park alone.