South Korea has claimed that its initial investigation reveals that the latest cyber attack came from a Chinese IP address, but North Korea has also come under suspicion, which is likely to exacerbate the hostility between the two warring neighbours at a time when tension has reached fever pitch.
The latest cyber attack hit 32,000 computers, crippling three major South Korean banks and two main TV networks in the country. Public services such as ATMs and internet banking were paralysed as well.
South Korea has claimed that the hacking originated from Chinese soil, but the identity of the hackers has not been confirmed yet. Officials said that they are looking to investigate the matter further to ascertain the nationality of the hackers.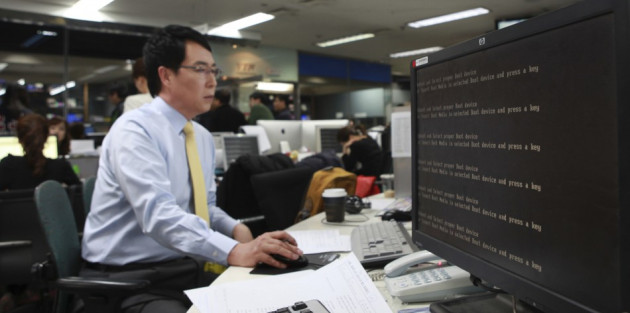 Park Jae-moon, spokesperson of South Korea's communications regulator, said: "Unidentified hackers used a Chinese IP address to contact servers of the affected organisations and plant the malware which attacked their computers. At this stage, we're still making our best efforts to trace the origin of attacks, keeping all kinds of possibilities open."
The South Korean regulators have distributed free computer vaccines to government offices, banks, hospitals and other state institutions to prevent any further cyber attacks from crippling public and financial services.
The Korean Communications Commission (KCC) has raised its cyber alert level to three, with five being the maximum.
Suspicion on North
Despite initial investigations pointing to China, experts say that hackers usually carry out cyber attacks from foreign shores to camouflage and manipulate their identities.
Intelligence experts say that North Korean hackers use Chinese IP addresses to launch cyber attacks on its richer neighbour's public system.
The BBC has learnt that the recent discovery has prompted South Korea to strengthen speculation of North Korea being behind these attacks.
At a hacking conference last year, Michael Sutton, head of a cyber security company, had said that Chinese hackers were collaborating with North Korea to take down South Korea's public system.
His view was rebutted by Adam Segal, a cyber conflict specialist at the Council on Foreign Relations. Segal said that there was no evidence of such collusion between China and North Korea.
In 2011, South Korea said an "unprecedented cyber terror deliberately planned by North Korea" had hit a major bank, leaving customers unable to access their accounts and withdraw money. North Korea was blamed in 2009 as well for disrupting a number of South Korean government websites.
This time, unlike the previous two cyber attacks, the networks were attacked by malicious codes, and not through the usual distributed denial-of-service (DDoS) attacks.