Unions and rail bosses will hold talks on Wednesday (14 December) in a bid to resolve the Southern Rail dispute which has affected an estimated 300,000 commuters and could cause misery right up to Christmas.
Wednesday's strikes are still expected to go ahead, however, as it emerged the taxpayer will have to foot the estimated £50m cost of the industrial action.
Leaders of the rail workers' union, Aslef, and bosses from Southern Rail will meet at the offices of the conciliatory service Acas on what will be the second day of strikes which have affected train routes across the southeast.
There will be further 24-hour Aslef-backed walkouts on Friday 16 December and Monday 9 January. Members of the fellow union RMT are also striking on 19/20 December and from 31 December to 2 January.
Transport Secretary Chris Grayling has accused the unions of "a deliberate act of militancy" and "trying to bring [the railway] to its knees".
Grayling's claims were refuted by Aslef general secretary Mick Whelan, who said: "The strikes this week are not, whatever Mr Grayling tries to suggest, politically motivated. We have a trade dispute with GTR Southern, and only a poor government would seek to spin it any other way."
All of Southern's 2,242 weekday services were cancelled on Tuesday, The Guardian reported, leading to overcrowded trains on other lines and hundreds of thousands heeding advice not to go to work. A protest march by commuters will take place on Thursday 15 calling on Grayling to quit unless the increasingly bitter strike is resolved.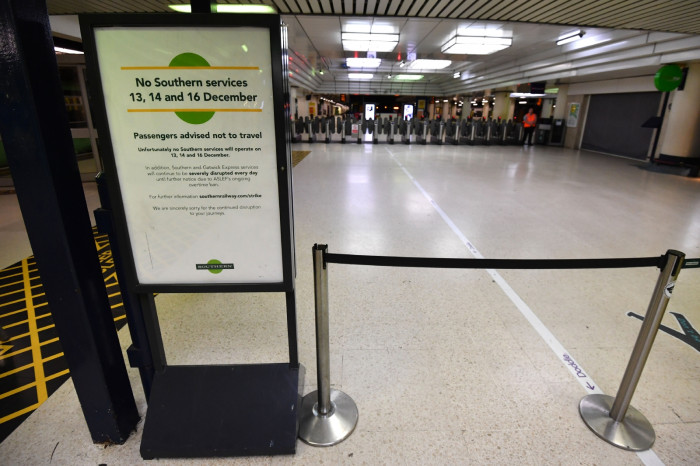 Meanwhile, it has emerged that the taxpayer will have to fork out around £50m to cover the costs of the dispute, thanks to a deal made by the government.
Up to £15m will be paid in compensation to passengers and £38m will be handed to Govia Thameslink Railway (GTR), which owns Southern, to make up the shortfall in fare revenue, reports The Telegraph. GTR will also save up to £1.1m on wages to striking employees.