Isis says it was behind Cairo Coptic Christian church suicide bombing that killed 25
The militants made the claim on social media.
Islamic State (Isis) has claimed responsibility for the deadly suicide bomb attack on the largest Christian church in Cairo. According to a statement circulating on social media on Tuesday (13 December), the terror group announced they were behind the attack that killed 25 people, including the bomber, and wounded a further 49 worshippers.
The bomb exploded on 11 December in a chapel adjoining St Mark's Cathedral, Cairo's largest church and the seat of the Coptic papacy. Although security is usually tight, Egyptian officials say that a bomb containing at least 12 kg of TriNitroToluene (TNT) exploded on a side of the church normally used by women.
In the statement, the extremists say they killed and wounded nearly 80 "crusaders" and warn "disbelievers and apostates in #Egypt and everywhere". They add that they plan to "continue to spill their blood and grill their bodies".
They identified the suicide bomber as Abu Abdallah al-Masri, who is said to have detonated his explosive belt inside the church after sidestepping normally stringent security.
"Every infidel and apostate in Egypt and everywhere should know that our war continues," the group said in the statement, published by the Isis-affiliated Amaq news agency.
Egyptian authorities had earlier named Mahmoud Shafik Mohammed Mostafa, 22, whose nom-de-guerre was Abu Dajjana al-Kanani, from the town of Fayyoum south of Cairo, as the suicide bomber. Isis made no reference to him in their statement
Egyptian President Abdel Fattah al-Sisi, speaking at a state funeral for the victims, said that four people had been detained, including a woman, and security forces were seeking two more people believed to be involved.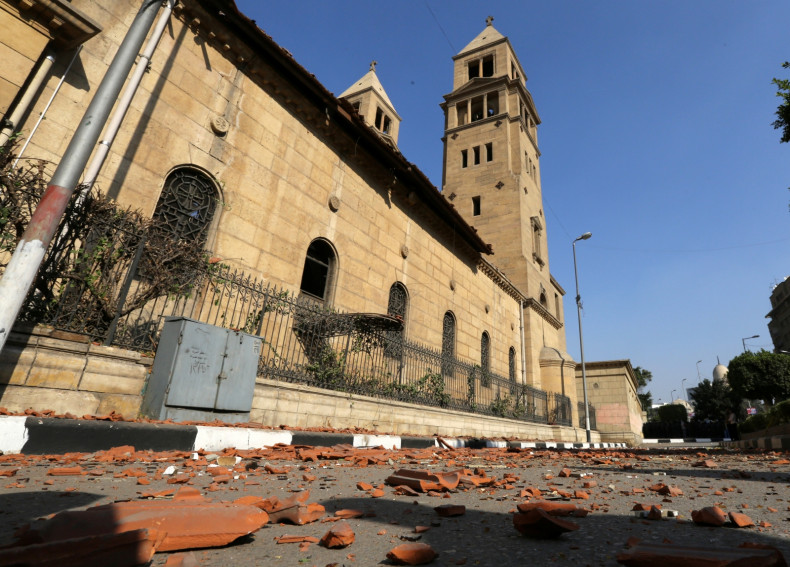 He said "The attack brought us great pain but we will never be torn apart," according to Reuters. "We will only be much stronger. We will hold steadfast and, God willing, we will succeed."
The Egyptian state news agency for the Middle East and North Africa​ (MENA) reported that three of those arrested were from Fayyoum while a fourth is from Cairo suburb Matariya. Both areas are associated with strong support for the Islamist Muslim Brotherhood party.
On the same day. six policemen were killed and three others injured in Cairo when a bomb exploded at a police checkpoint on a road leading to the Giza pyramids.
This would not be the first time that Isis has targeted the Christian sect, in February 2015, Isis circulated images of their militants executing 21 Coptic Christians who had been kidnapped from Sirte, Libya. In response Egypt launched air strikes targeting Isis positions.
Approximately 10% of the Egyptian population are Coptic Christians. The Church has around one million members outside Egypt. It has a cathedral under construction in the UK, in Birmingham.