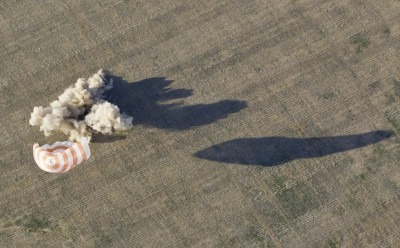 A Russian Soyuz capsule has landed lifting in the Kazakh steppes, returning its three-man crew form a 123 days space mission.
The three astronauts, two Russians - Gennady Padalka, 54, and Sergei Revin, 46 - and one American - Joe Acaba, 45 - touched down safely at the end of a four-month deployment aboard the International Space Station.
The Soyuz capsule is the sole remaining means of transport from crews to the space station after Nasa retired the Shuttle in 2011.
As they clambered out of the capsule on terra firma, the astronauts were assisted by recovery staff, wrapped in blue blankets and served hot tea to help them readjust.
"I feel great. This was my fourth flight, and so it is nothing out of the ordinary already," veteran mission commander Padalka said.
With a record of 711 days in orbi,t Padalka is the world's fourth most experienced astronaut.
The trio's stint involved three spacewalks and the arrival at the $100bn orbiting research complex of several robotic cargo ships.
Fifteen countries are involved in the International Space Station project. Three astronauts - Russian Yuri Malenchenko, Sunita Williams of the US and Japan's Akihiko Hoshide - remain on the station.
A fresh crew of three is to take off from the Baikonur base in Kazakhstan to join them in October.