China is set to make a giant leap forward in its space program, when a space laboratory named Tiangong-1 will be launched into orbit this afternoon, atop a Long March 2F rocket.
The 10.5-metre-long cylindrical lab will be unmanned at first but Chinese astronauts are expected to visit it next year; Tiangong-1 will demonstrate that China has the technology needed to build a fully-fledged space station, which the country has promised to do by the end of this decade.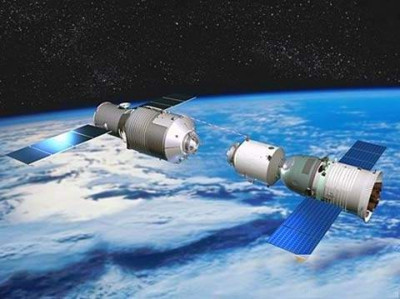 Chinese state media say the rocket will be launched between 21:16 and 21:31 location time (13:16-13:31 GMT) from the Jiuquan Satellite Launch Centre in Gansu Province.
The space lab will be monitored from the ground while it operates in autonomous mode for a few weeks, until China launches another unmanned spacecraft, named Shenzhou 9. China will then attempt to link the pair together remotely, reportedly using Russian technology.
Two manned missions (Shenzhou 9 and 10) are expected to follow in 2012.
Tiangong means "heavenly place" in Chinese and the programme is the second step in a three-step strategy, according to Beijing authorities.
Once the space station is built, it will be about 60 tonnes in mass, much smaller than the 400-tonne International Space Station (ISS) operated by the US, Russia, Japan and Canada, but the BBC notes that "its mere presence in the sky would nonetheless represent a remarkable achievement."
Europe and the US have argued that additional partners in the ISS programme would help to spread and reduce the astronomical cost of operation, but political differences between China and the US would seem to make such a partnership unlikely in the short-term.
The launch marks a major milestone for China. Director of human spaceflight at the European Space Agency, Thomas Reiter, has said: "I think the Chinese want to prove to themselves and others that they are on a level. At that point, it becomes a moment for discussion on greater co-operation. We are certainly drifting towards each other."