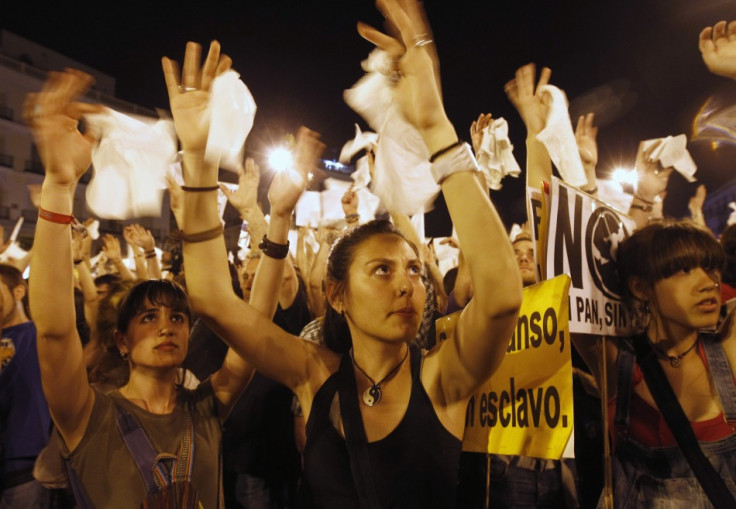 The streets of Spain were flooded by tens of thousands of protesters on Saturday evening to mark the first anniversary of the movement against the austerity measures that failed to reduce the national debt.
The activists under the banner of "Indignant Movement" occupied Madrid's central Puerta del Sol plaza on Saturday.
Though the protesters planned to stay for the next three days, reports suggest that by 05:00am on Sunday (03:00 GMT), police have evicted them.
Indignados began the protest on 15 May, 2011 against the severe austerity measures introduced in the country. They had occupied the streets of Spain for weeks during the 2011 protest movement and the riot police had to forcibly evict them.
Spaniards are unhappy about the grim prospects of the economic situation in the country which is in the same lines of Greece, Ireland and Portugal needing a bailout. Spain is in recession and unemployment rates are at a record high.
"The situation is getting worse but the root of the problem remains the same; this is a moment of crisis for capitalism," Reuters quoted Jesus Gonzalez, 38, an airline employees as saying.
Spain's youth unemployment rate stands at 50 per cent and is the highest among the 17-member euro currency nations. One in two Spaniards under the age of 25 are out of work.
People are blaming the austerity cuts for financial crises in families and blamed the government for no change in the economic situation in the past one year even after adopting strict measures of expense control.
"Right now I'm thinking my best option will be to go to Germany where I can wash dishes, make a little money and learn German. The prospects of getting a job in Spain are practically non-existent," AP quoted Javier Colilla, a 27-year-old fine arts graduate as saying.
Similar protests took place in many parts of Europe on Saturday. But the protests in other parts of the continent were not as large as the one in Spain.
In Britain, Occupy London protesters held demonstrations in front of the Bank of England and at least 12 people were arrested by the police.
Protests were also held in Brazil, Portugal and Moscow.